This Mountain Trail In Arkansas Will Lead You To The Most Majestic Views
'Tis the season for road trips and epic adventure, and we've got a heck of an itinerary laid out for you today. From the scenic Ouachitas to the breathtaking Ozarks, this road trip is going to take you to the best and prettiest peaks across the Natural State. Along the way, you'll see some of the best mountain views in Arkansas. The total drive time will take you just under eight hours, and most of that drive time is through some of the most impressive byways Arkansas has to offer. I've also included suggestions for places to eat and sleep, so you can have the very best time while you explore some of the prettiest spots that Arkansas has to offer!
You can find your itinerary by clicking here.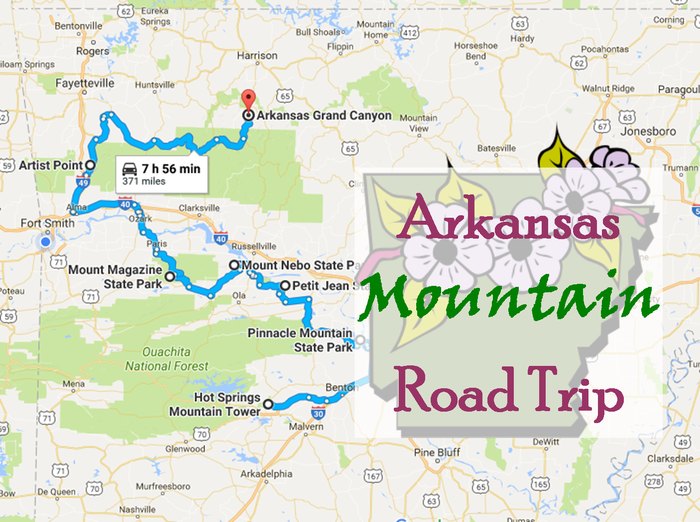 You'll find all of the best mountain views in Arkansas along this amazing road trip. Have you ever been to any of these places? Which one is your favorite? Would you add another stop on our road trip? Let us know in the comments below!
You're going to love this waterfall road trip and this natural wonders road trip too. If you want to travel Arkansas's prettiest scenic byways with no particular destination in mind, try these roads.
OnlyInYourState may earn compensation through affiliate links in this article.
Address: Arkansas Grand Canyon, AR-7, Jasper, AR 72641, USA
Address: Boston Mountains, Arkansas 72839, USA
Address: Mount Magazine State Park, 577 Lodge Dr, Paris, AR 72855, USA
Address: Mount Nebo, Mt Nebo, Arkansas 72834, USA
Address: Petit Jean State Park Lake, Arkansas 72110, USA
Address: Pinnacle Mountain State Park, Arkansas 72135, USA
Address: Hot Springs Mountain Drive, Hot Springs Mountain Dr, Hot Springs, AR 71901, USA
Mountain Trail In Arkansas
February 07, 2021
What is the tallest mountain in Arkansas?
Magazine Mountain is the tallest mountain in Arkansas, standing at an impressive 2,753 feet. Rich Mountain isn't far behind, and sits at 2,680 feet tall.
What mountain ranges run through Arkansas?
There are two distinct mountain ranges in Arkansas, the Ouachitas and the Ozarks. The Ozarks are the largest, and actually holds the title of being the largest between Appalachian Mountain Range in the east, and the Rocky Mountain Range in the west.
What are some scenic hikes in Arkansas?
If seeing the best mountain views in Arkansas sparked some major wanderlust, you'll be pleased to learn that are some downright scenic hikes in The Wonder State. (In fact, we believe that nine of the absolute prettiest places on earth are right here in Arkansas!) Goat Trail is one of our favorites; you'll find this scenic hike just outside of Ponca. The Goat Trail leads to jaw-dropping view of Big Bluff overlooking the Buffalo River -- but it's best for more seasoned hikers. The trail is about 6 miles and is not for children or anyone afraid of heights. The ledges along the trail get pretty steep at 350 ft. in the air. For more beginner-level hikes, try out these scenic trails in Arkansas..