You'll Want To Spend All Winter At The Most Epic Sledding Spot In All of Wisconsin
When the city of Green Bay announced its plans for the Titletown District in 2015, no one could have imagined what this massive area west of Lambeau Field would eventually become. Though there are certainly practical uses for this area, it has also basically become a giant playland. In warmer months, you'll find playgrounds, bocce ball, a full-size football field, and more. But when Titletown truly shines is in winter, when it's transformed into the most epic, amazing winter wonderland with the best sledding in Wisconsin.
From an awesome ice skating loop to an ice lounge and the epic sledding hill, this is truly the place to be in winter in Wisconsin. Lambeau Field has always been the main fall and winter attraction for many Wisconsinites, but this takes it to a whole new level.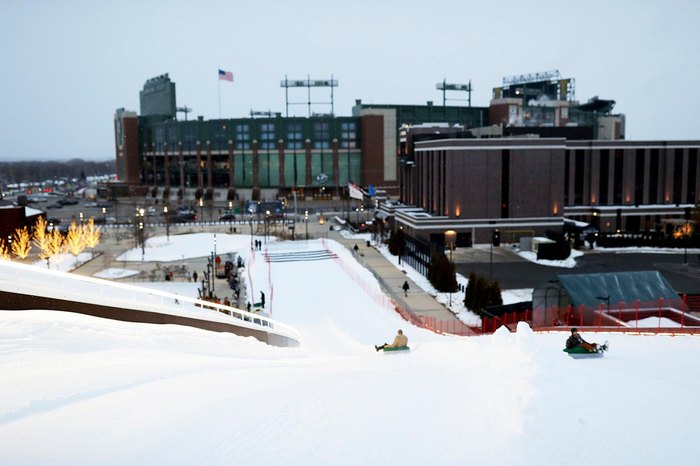 The Titletown District is located at 1065 Lombardi Ave., Green Bay, WI, 54304. You can learn more about Titletown Green Bay from their website and check out more epic pictures on their Facebook page.
All tubing guests will be required to sign a waiver, which you can do ahead of time by visiting the tubing web page. Unaccompanied minors who visit the hill have to have a waiver signed by a parent or guardian with them.
Where is your favorite place to go sledding in Wisconsin? Let us know in the comments! If you really love snow tubing, you need to check out the country's largest snow tubing park!
Address: 1065 Lombardi Ave, Green Bay, WI 54304, USA
OnlyInYourState may earn compensation through affiliate links in this article.
Winter in Wisconsin
December 16, 2021
What are the best winter hiking trails in Wisconsin?
There's no way around it; winter in Wisconsin can be frigid. And while there are plenty of cozy cafes and restaurants where you can pass the time, don't be afraid to venture outdoors and embrace all that the cold-weather season has to offer. With a little preparation and lots of warm layers, you'll find that winter hiking in Wisconsin can be positively magical. Some of the best winter hiking trails in Wisconsin can be found at Kettle Moraine State Park Northern Unit.
The Greenbush Recreation Area Trails in particular are wonderful for a peaceful winter stroll through the woods. These trail loops are also open to snowshoers and cross-country skiers. To make this destination even more winter-friendly, the park features a lighted ski path and a heated picnic area. What could be better?
Here are some other great winter trails:
Lapham Peak in Kettle Morain South Unit
Indian Lake County Park in Cross Plains
Whitetail Meadows Trail in Wyalusing State Park
Chippewa Ice Age Trail in New Auburn
Vilas Park in Madison
Devil's Lake State Park in Baraboo
Chequamegon National Forest in Rhinelander
Mirror Lake State Park in Baraboo
Interstate State Park in St. Croix Falls
What's the snowiest town in Wisconsin?
If you're someone who just can't get enough snow, Wisconsin is a great place to spend the winter. And, moreover, you'll want to head to the town of Hurley. During the winter of 1996-97, this town received 277 inches of snowfall! Of course, Rhinelander is another snowy destination worth visiting. During the winter of 2018-19, this region received 155 inches of snowfall.
Address: 1065 Lombardi Ave, Green Bay, WI 54304, USA
OnlyInYourState may earn compensation through affiliate links in this article.