7 Snow Tubing Hills In Wisconsin That Belong On Your Winter Bucket List       
Nothing says winter in Wisconsin like soaring down a seemingly never-ending hill atop a tube! Luckily, there are plenty of places where you can do just that. You feel like a kid again as you glide down the snow in an innertube, and warm up afterwards with some steaming hot chocolate. If you're reading for some winter fun, read on for 7 of the best places to go snow tubing in Wisconsin.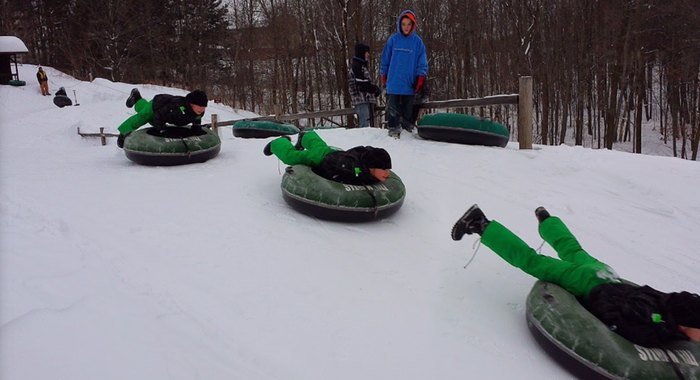 So, did you know about these places to go snow tubing in Wisconsin? Ever visited any of the ones mentioned? Did we leave off your favorite? Tell us in the comments section. Want more wintertime fun? Check out this trail in Wisconsin that's full of gorgeous scenery any time of year.
OnlyInYourState may earn compensation through affiliate links in this article.
Snow Tubing in Wisconsin
December 21, 2021
What are the best ski resorts in Wisconsin?  
Wisconsin is one of those places that are absolutely perfect for those who love the winter and everything that comes with it – especially the fun stuff! There are numerous resorts in Wisconsin where you can try your hand (er, feet) at skiing, among lots of other things. Here are some of the best ski resorts in Wisconsin:
Granit Peak is a local legend for having the highest vertical drop in Wisconsin, as well as being the largest resort of them all.

Devil's Head is a full-service ski spot with some of the best views in the entire state.

Alpine Valley is close to Milwaukee, so it's great for a day trip.

Christie Mountain is a beautiful example of Wisconsin winter at its best.
What are some fun things to do during winter in Wisconsin?  
If you can dream it in your winter fantasies, you can probably find a way to do it in Wisconsin. This state is so wonderful for literally everyone who just so happens to be a big fan of winter. Check out this list of some fun things to do during winter in Wisconsin:
Skiing

Snowboarding

Sledding

Snowshoeing

Snow tubing

Try your hand at some ice fishing (but make sure to bring warm gloves – brr)!


Ice skating

You know you can't resist the occasional snowball fight.
For some more ideas, check out this awesome list of wonderful places you need to visit during winter in Wisconsin!