5 Great Lakes Beaches In Wisconsin That'll Make You Feel Like You're At The Ocean    
The Atlantic and Pacific may be the first places that come to mind when craving some oceanside fun, but they're not the only options. Thanks to the Great Lakes that border the state, we've got several ocean-ish beaches right here in Wisconsin. So forget spending money and time traveling to the east or west coast, and instead, check out one of the following Great Lakes beaches in Wisconsin that'll make you swear you're at the ocean.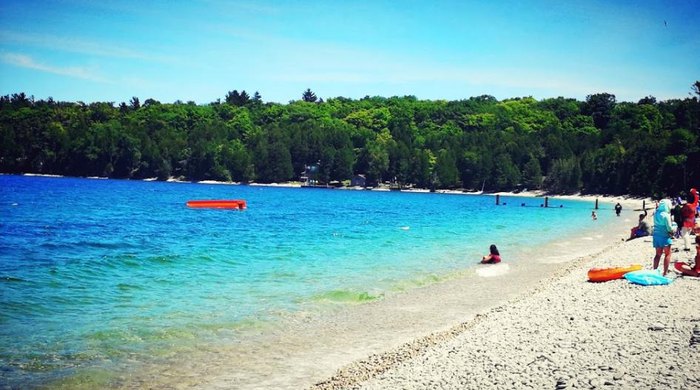 So, did you know about the Great Lakes beaches in Wisconsin mentioned above? Ever visited? Know of another must-visit Great Lakes beach? Tell us in the comments section.
Of course, these aren't the only great swimming spots in Wisconsin.
Address: 100 Kewaunee St, Racine, WI 53402, USA
Address: 2305 Big Bay Rd, La Pointe, WI 54850, USA
Address: 1824 Washington Harbor Rd, Washington, WI 54246, USA
Address: 1020 Beach Park Ln, Sheboygan, WI 53081, USA
Address: 9400 County Rd O, Two Rivers, WI 54241, USA
Great Lakes Beaches in Wisconsin
March 30, 2021
What are the most beautiful Wisconsin lakes?
It's hard to imagine the Wisconsin landscape without its beautiful array of lakes. Ranging in size and scope, these beautiful water features are what make the Badger State so remarkably beautiful. If you agree, then there are countless lakes that belong on your radar. Some of these destinations include Lake Mendota in Dane County, Lake Pepin in Pepin County, Devil's Lake in Sauk County, Lake Winnebago, Green Lake, Wazee Lake in Jackson County, Lake Onalaska in La Crosse County, Lake Koshkonong in Jefferson County, Lake Waubesa in Dane County, and Shawano Lake. One could easily devote an entire lifetime to exploring all that these beautiful Wisconsin lakes have to offer!
What are the best swimming spots in Wisconsin?
No matter your age, there's something about discovering a hidden swimming hole that will make you feel like a kid again. Fortunately, we've done the work to locate some of the very best swimming spots in Wisconsin. So pack your bathing suit and towel and prepare to be enchanted when you visit any of the following spots: Dells of the Eau Claire Park in Aniwa, Soo Lake in Newbold, Minooka Park in Waukesha, Turtle Creek in Beloit, Amnicon Falls in South Range, Redgranite Quarry in Redgranite, Willow Flowage in Little Rice, Hartman Creek State Park, Fox Brook Park in Brookfield, Willow River State Park in Hudson, and Quarry Beach in Sheboygan.
Where can I go in Wisconsin that only the locals know about?
Wisconsin is a vast state, and there are quite literally thousands of hidden gems to uncover. If you're looking to experience the state as the locals do, there are a few places that you simply must experience. Some of these destinations include the Abbey Resort, Period Garden Park, the LaCross Trolley, Wisconsin's Lost State Park, Manitowoc, Brunet Island State Park, Cranberry Castle Vacation Rental, and the American Science and Surplus Store. Have you visited any of these hidden gem destinations in Wisconsin?
Address: 100 Kewaunee St, Racine, WI 53402, USA
Address: 2305 Big Bay Rd, La Pointe, WI 54850, USA
Address: 1824 Washington Harbor Rd, Washington, WI 54246, USA
Address: 1020 Beach Park Ln, Sheboygan, WI 53081, USA
Address: 9400 County Rd O, Two Rivers, WI 54241, USA