This Is The Oldest Place You Can Possibly Go In New Jersey And Its History Will Fascinate You
The C.A. Nothnagle Log House located in Gibbstown, New Jersey dates back to 1638 and is believed to be the oldest surviving log cabin in the United States. Though the current owners occasionally accept guests, the structure is on private property. You won't find regular tours and last I heard, it was up for sale. We'd like to see it purchased by an organization that would preserve it and open it to the public, but until that happens, we have another old house that's absolutely worth a visit. A spy house in New Jersey!
The Seabrook-Wilson House is over 350 years old and is thought by many to be one of the most haunted places in New Jersey. Let's take a look…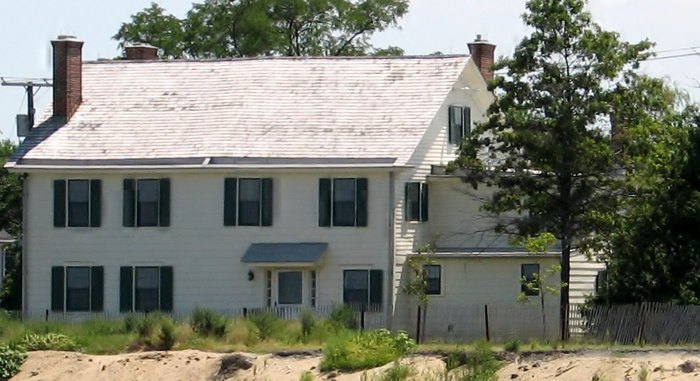 Did you know there was a spy house in New Jersey? Have you taken one of the Seabrook-Wilson House tours before? Do you agree that it's one of the most haunted places in New Jersey? We'd love to hear about your ghost-hunting adventures in the Garden State! The Seabrook-Wilson House can be found at 719 Port Monmouth Road, Port Monmouth, NJ.
If you're a history buff who loves the shore, you may also want to check out some of the oldest places in New Jersey like the oldest lighthouse in America.
OnlyInYourState may earn compensation through affiliate links in this article.
Address: Seabrook-Wilson House, 719 Port Monmouth Rd, Port Monmouth, NJ 07758, USA
most haunted places in New Jersey
November 25, 2021
What are some other haunted places in New Jersey?
New Jersey is a state with a long and storied past, so it's only natural that we have more than our fair share of haunted places, sites, and attractions. If you're looking to explore more haunted places in New Jersey, we recommend checking out this article: The Definitive Guide To All Things Haunted And Creepy In New Jersey. Among the notable spots on the list is a mansion in Westfield with a story that will chill you to the bone. Soon after purchasing their dream home in Westfield, a young family began receiving a series of terrifying letters Disturbing comments were made about the children in the family, young blood, and secrets hidden in the walls. As the letters became increasingly threatening, police were contacted. Years later, there still have been no convictions. The family recently sold the home and the movie rights to their story. Would you live in this New Jersey haunted mansion?
What's the most haunted restaurant in New Jersey?
Some people like dinner with a  view; others enjoy dinner with a side of the supernatural. If you fall into the latter camp, you'll want to make a reservation of Lake House Restaurant. New Jersey is home to quite a few haunted restaurants but at least one embraces that haunted history. Lake House Restaurant in Newfield is a beautiful eatery offering scenic views, delicious food and perhaps a paranormal experience. Formerly an inn and social gathering space, the Lake House Restaurant dates back to the early 1900s. Legend has it that Al Capone once frequented the spot which may have served as a brothel and hosted an illegal fight club. There was also a basement level speakeasy that operated during Prohibition - a haven for nefarious activities. Over the years, several ghosts have been spotted at the site including a man named Victor and a woman in black, possibly an original owner. Even if you don't spot a ghost at the most haunted restaurant in New Jersey, the food alone is to die for!
What are some haunted accommodations in New Jersey?
New Jersey is no stranger to the weird and unexplained. The Garden State is home to countless creepy haunted and abandoned places; paranormal and extraterrestrial legends abound. Take these hotels, for example. If you're looking for haunted accommodations, New Jersey has got you covered — in fact, it seems that guests never want to leave our charming inns, so they stay forever. At these hotels, ghost stories, unexplained phenomena, are not uncommon — and have been talked about for decades. Here are seven haunted accommodations in New Jersey sure to give you quite a memorable -- and frightful!! -- night!