You'll Never Forget Your Visit To The Most Haunted Restaurant In New Jersey
There are a lot of amazing haunted places in New Jersey, but not all of them truly embrace that haunted history. Lake House Restaurant in Newfield is a beautiful eatery offering scenic views, delicious food and perhaps a paranormal experience. Even if you don't spot a ghost at the most haunted restaurant in New Jersey, the food alone is to die for!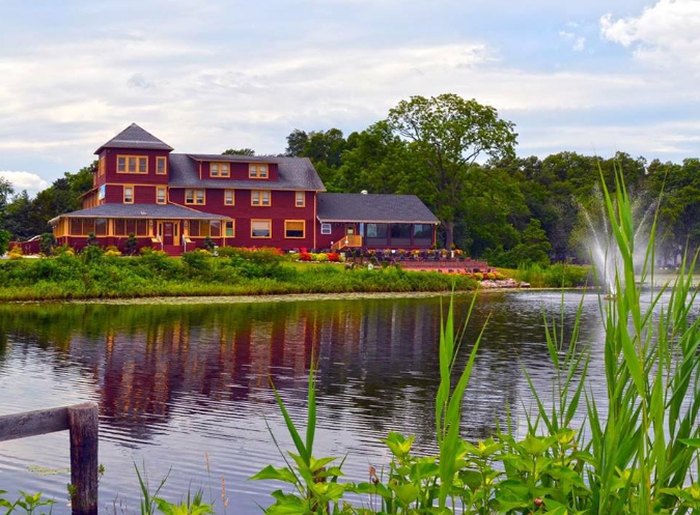 The Lake House Restaurant isn't just the most haunted restaurant in New Jersey, it's an all-around haunted destination! The restaurant offers live entertainment and occasional murder mystery dinners from time to time, which you can read more about on their website.
Lovers of all things creepy should visit our hub for articles about the most haunted places in New Jersey, and if you want to see a bunch of haunted spaces at once, we highly recommend our haunted New Jersey road trip.
OnlyInYourState may earn compensation through affiliate links in this article.
More to Explore
most haunted restaurant in New Jersey
What are some other haunted places in New Jersey?
Haunted sites and destinations abound in the Garden State, and if you're searching for haunted accommodations, New Jersey has got you covered! It seems that guests never want to leave our charming inns, so they stay forever. The city of Cape May is home to several haunted bed and breakfasts including Hotel Macomber and Angel of the Sea. There are local ghost tours available if you want to hear their stories. You'll also find another gem with purported paranormal activity in Ocean City - the popular Flanders Hotel. Guests report disembodied laughter and a vanishing red-haired woman. Would you spend the night in this New Jersey haunted hotel?
What are some historic restaurants in New Jersey?
New Jersey is one of the original colonies in the United States, which means it's crawling with history. Some of the most important events during the formation of the country and its early years happened in the state! So naturally, the state also has many restaurants that are just as old as George Washington himself — and to honor that, here are some restaurants in New Jersey that have stood the test of time.
Are there many haunted places in New Jersey?
After you've dined at the most haunted restaurant in New Jersey, you may be ready for other supernatural adventures in the Garden State. Well, you're in luck! New Jersey is home to dozens of creepy haunted and abandoned places; it is no stranger to the weird and unexplained. The Garden State comes with countless ghost stories and terrifying tales of cryptids, including the Jersey Devil. Paranormal and extraterrestrial legends abound. While some spirits are friendly, many Garden State ghosts are scary or even violent. Of course, hauntings aren't the only thing that can make a place creepy. New Jersey has ties to mass murderers, serial killers, and unsolved mysteries. Before we get to those mysteries, what are the creepiest places in New Jersey? Most are considered extremely haunted. Whether you want to avoid them or explore them, here are a few of our most horrifying destinations.
Related Articles
Featured Addresses

Lake House Restaurant, 611 Taylor Rd, Newfield, NJ 08344, USA