This Eerie And Fantastic Footage Takes You Inside New Jersey's Abandoned Wayne Hills Mall
Though New Jersey's Wayne Hills Mall has been vacant for over a decade, it's still alive and well in many of our memories. The mall was built in 1973-74 and closed down in the mid-2000s. Just over 100,000 square feet, it was never a mega-mall but more of a local gem. Nearby Willowbrook, also in Wayne, spans a whopping 1.5 million square feet. Even that pales in comparison to the much anticipated American Dream Mall in the Meadowlands, which will feature over 3 million square feet of stores, restaurants, and attractions.
Just recently demolished, the mall began to dwindle in popularity during the mid-90s, along with nearby stores including K-Mart and Toys R' Us. All that remains is the former anchor, Burlington Coat Factory. Shops IN the mall itself included Meyer Brothers (the anchor, until 1995), SaveMart Electronics, Pearle Vision Center, Karins Kurtains, Footlocker, Avenue, Payless Shoes, Joyce Leslie, Waldenbooks, The Town Mouse card store, Colorama Photo, and Sam Goody. Restaurants and dining options included Pauly's Pizza, Quizno's Subs, TCBY, McDonald's, and Blimpie (until 2003). Another beloved destination was the mall's arcade, Fun Palace.
Foot traffic at Wayne Hills Mall dropped dramatically following the closure of the adjacent Pathmark Supermarket in 2001. It had a special charm to it around the holidays and local residents were hopeful that the mall would remain but unfortunately, it could not be maintained. Individual stores struggled (many would soon close across the country) and the mall itself no longer drew crowds. Below, find photos and a video of the abandoned mall before demolition. The video was created by YouTube user Antiquity Echoes.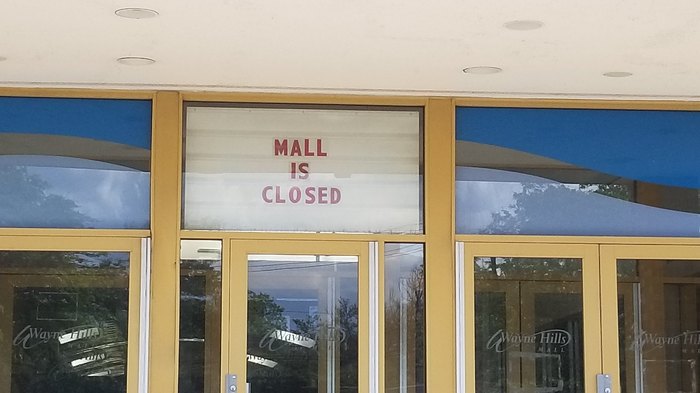 The current plan for the site is a new 79,000-square-foot Shop Rite that sells alcohol and several smaller retail spaces. Are you excited about this plan? Is there something else you would prefer? Let us know in the comments and be sure to share your Wayne Hills Mall memories. Don't forget to check out the short video below!
Address: Wayne Hills Mall, Wayne, NJ 07470, USA