Here's The Ultimate Terrifying New Jersey Road Trip And It'll Haunt Your Dreams
Who doesn't love a good scare every once in a while? New Jersey offers plenty of frightening fun with our abundance of haunted spots. Even if you don't believe in ghosts, this trip is still sure to be a good time. We've specifically designed it to provide a weekend of fun for everyone, paranormal lovers or not. You'll enjoy some amazing attractions and will make memories to last a lifetime… or longer! For directions, view the Google map here. Here's our haunted road trip through New Jersey!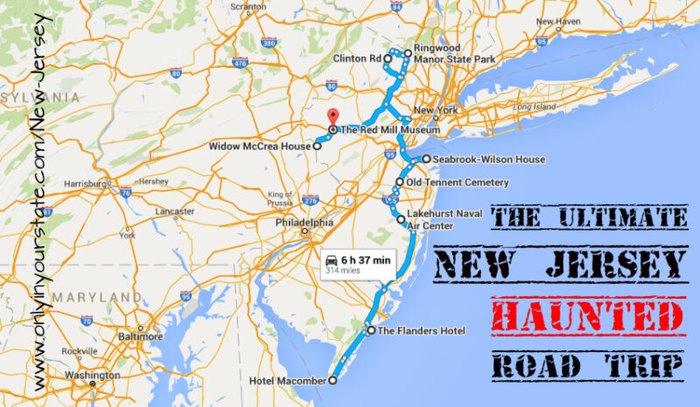 We ended this trip in a fairly central location to make the drive home easy enough for everyone! If you have some spare time, consider stopping for a meal at one of New Jersey's numerous haunted restaurants.
Those of you traveling north will enjoy the Knotty Pine Pub in Wharton. There have been reports of strange whistling noises and a thin, ghostly figure wandering around the dart board. Anyone headed to the shore area should stop at The Shore House Bar & Grill in Point Pleasant. Glasses are said to fall on their own, and rumor has it that the former tavern was used as a makeshift hospital after an 1846 shipwreck. Headed down near Burlington, Camden, or Gloucester County? Dine at the Lake House in Newfield. The original owners are believed to haunt the restaurant, along with a ghost named Victor and a strange woman in black. Even if you don't believe in ghosts, these spots definitely have spirits… of the alcoholic variety!
So, are you brave enough to make this haunted road trip through New Jersey? We know there are many more incredible haunted locations throughout New Jersey, but we optimized this road trip for convenience and drive time. If you're in the Southwest portion of our state, we highly recommend adding the Burlington County Prison Museum to this spooktacular getaway. Share your thoughts, favorite haunted spots, and paranormal experiences in the comments below!
OnlyInYourState may earn compensation through affiliate links in this article.
More to Explore
Haunted Road Trip Through New Jersey
Are there haunted places in New Jersey?
Of course! Some of our favorites include Ringwood Manor, which was unfortunately the location of numerous tragedies. This particular haunted locale is infamous for its - wait for it - headless horseman. He's said to ride around the cemetery holding a lit-up lantern. There are orbs, and strange noises galore, and photos caught of unexplainable things on the grounds further cement its legitimacy as a premier haunt in New Jersey. Another infamously haunted spot is the site of the Hindenburg disaster, where 36 people perished. Visitors report screams and people yelling - but nobody else around to be making the noise to begin with.
What are some real New Jersey ghost stories?
New Jersey is home to many, many tales of spooks and specters galore! One of New Jersey's most notorious ghost stories is that of Matilda "Tillie" Smith, who was brutally murdered in 1886. She is frequently spotted on the grounds of Centenary College, in Hackettstown, in period clothing. Shippen Manor, in Oxford Township, was built in the 1760s and has an entire laundry list of creepy stories, too, like items that appear and disappear without explanation, and even full-bodied apparitions that are seen stalking the halls. It seems like no matter where you go in Jersey, you'll find a fair share of ghost stories. Perhaps most famously, though, is the tale of The Jersey Devil... yeah, that Jersey Devil. That happened here.
Are there many scary places in New Jersey?
Well, that depends on what you count as "scary" - we might want to just say "awesome"! New Jersey is home to some of the oldest cemeteries in the country, and boy, do they come with their ghosts. We've also got creepy locales, like The Devil's Tree in Bernards. It's said that anyone who cares try to cut the tree down will meet a grisly end. We can't confirm or deny whether that's true or not... but just in case, you might want to avoid trying to cut that particular tree down, okay? There's plenty of other, more friendly ghosts around the state that might appreciate the attention from you more! Just saying...
Related Articles
Explore New Jersey
Featured Addresses

727 Beach Ave, Cape May, NJ 08204, USA

454 Tennent Rd, Manalapan Township, NJ 07726, USA

719 Port Monmouth Rd, Port Monmouth, NJ 07758, USA

1304 Sloatsburg Rd, Ringwood, NJ 07456, USA

Clinton Road, Clinton Rd, West Milford, NJ, USA

53 Kingwood Ave, Frenchtown, NJ 08825, USA

56 Main St, Clinton, NJ 08809, USA