This New Jersey Restaurant Is Among The Most Haunted Places In The Nation
Who doesn't enjoy a good ghost story? Lucky for us there are a bunch of haunted places in New Jersey with intriguing histories. A little scare can be a lot of fun, spiking adrenaline, giving us chills and a thrill… But, a lot of ghosts can be scary, and therefore dining with them might not be so appealing! The idea of an ice-cold hand encircling your neck or dinner plates flying towards your face can be a little frightening! However, you might not mind meeting a friendly ghost, and the Garden State's own haunted Cranbury Inn seems to have plenty.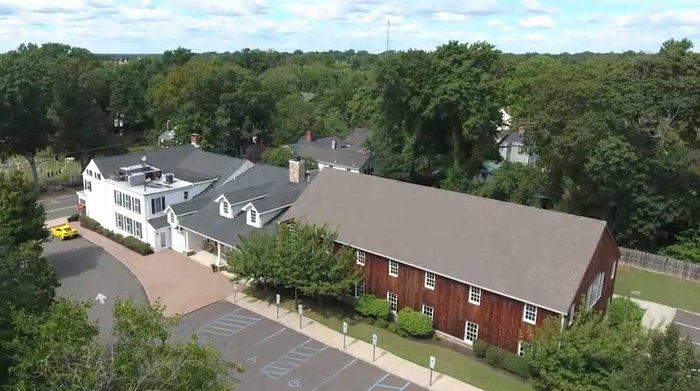 Have you ever been to the Cranbury Inn? Did you experience anything supernatural? Do you have any experience at this haunted restaurant in New Jersey — supernatural or otherwise? We'd love to hear about your ghost-hunting adventures in the Garden State, so drop a comment below! Learn more about this notoriously haunted restaurant in New Jersey by visiting the Haunted Cranbury Inn's official website, or take a look at their Facebook page.
Visit our list of the most haunted places in New Jersey to find more scary spaces to explore!
OnlyInYourState may earn compensation through affiliate links in this article.
Address: The Cranbury Inn, 21 S Main St, Cranbury, NJ 08512, USA
haunted restaurant in New Jersey
November 25, 2021
What are some other haunted restaurants in New Jersey?
If you want a side of ghostly history with your meal, head up to Lake House Restaurant in Newfield. Formerly an inn and social gathering space, the Lake House Restaurant dates back to the early 1900s, and has a haunted history sure to frighten -- and delight! -- ghost hunters in the Garden State...
Are there many haunted places in New Jersey?
The Garden State is a ghost hunting paradise, with haunted hollows and spooky spots everywhere you turn! In Ashbury Park, you'll find the former home of writer Stephen Crane. This historic property has been featured on Ghost Hunters. Legend has it that Scotch can't be kept here - the contents of every bottle mysteriously vanish... even while remaining sealed. The home is listed on the National Register of Historic Places and is currently undergoing restoration efforts. Then there's the Trenton Psychiatric Hospital up in Trenton, New Jersey, a place that even the most thick-skinned folks won't venture near. Though many old asylums in New Jersey have been demolished, Trenton Psych still stands, and parts of the building are in use to this day. The institution has a dark past filled with tales of torture and terror. The hospital's director, Dr. Henry Cotton, believed that removing organs could cure mental illness. He would often perform treatments with anesthesia. Dozens of patients (or more) died while under his care. Read about more haunted places in New Jersey in this article... if you dare...
What's a creepy ghost story about New Jersey?
If you visit Angel of the Sea, an historic inn in Cape May, you may meet one of the state's more infamous ghosts. Rumor has it that a woman in the 1960s, known only as Miss Brown, forgot her room key and attempted to climb her way in. She fell to her death and never left. There have since been reports of vibrating beds, swaying furniture, and mysterious lights at this New Jersey hotel. Another hotel in Cape May, Hotel Macomber, also has spirits all its own. It is said that there are multiple spirits haunting this centrally located boutique hotel in Cape May. Sightings of a shabbily dressed waitress in the dining and kitchen areas have been reported along with claims of moving silverware. Room 10 is said to be the summer home of a spirit from the 1940s who often loudly drags her trunk about. We don't know about you, but we would steer far, far away from these places!