Follow The Coast Along This Scenic Drive Through New Hampshire
While it's true that New Hampshire doesn't have a large coastline, we like to think it has one of the most beautiful! With just 13 miles of oceanfront landscape, it's not hard to explore every inch. One of the best ways to do that is with this drive along New Hampshire seacoast towns. It offers beautiful views, as well as a few fun stops along the way. You can follow the whole thing starting at either direction by checking out this Google Map.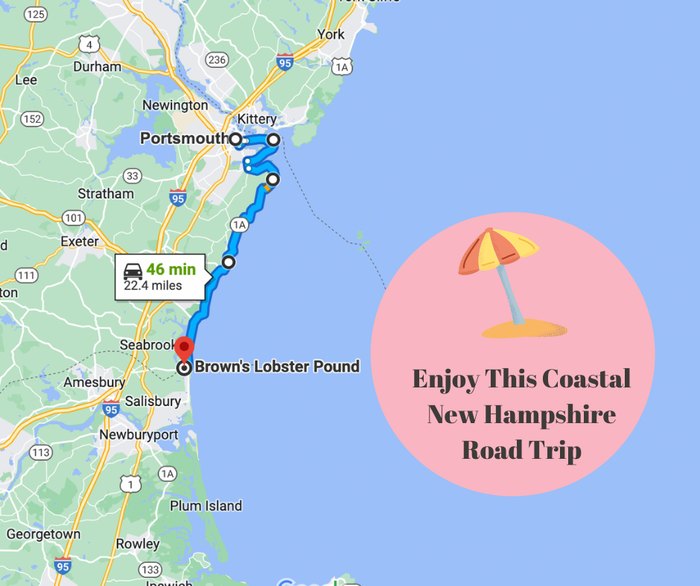 What's your favorite scenic drive in New Hampshire? Let us know in the comments so we can check it out for ourselves.
If you've got a full gas tank and just need some ideas, we've got plenty! These 7 beautiful byways in New Hampshire are perfect for a scenic drive.
OnlyInYourState may earn compensation through affiliate links in this article. As an Amazon Associate, we earn from qualifying purchases.
More to Explore
New Hampshire Seacoast Towns
What are the Colonial towns of New Hampshire?
New Hampshire has a rich colonial history, and several towns still retain their colonial charm and architecture. Here are some of the notable colonial towns in New Hampshire:
Here are some of the colonial towns of New Hampshire:
Does New Hampshire have a long coastline?
No, New Hampshire does not have a long coastline. In fact, it has the shortest coastline of any U.S. state that has a coastline. New Hampshire's coastline stretches for only about 18 miles (29 kilometers) along the Atlantic Ocean. The coastline is characterized by beautiful sandy beaches, rocky shores, and picturesque harbors. Despite its relatively small size, the New Hampshire coast offers visitors opportunities for beach activities, scenic views, and exploring charming coastal towns.
Related Articles
Featured Addresses