This Haunted Hayride In Minnesota Will Make Your Hair Stand On End
By day, Pinehaven Farm in Wyoming, Minnesota, is a charming and homey place to spend a fall afternoon. You can drink hot chocolate, pet cute animals, and pick out the perfect pumpkin. But at night, the farm takes an entirely different form. When the sun sets, the haunted hayride becomes the star of the show. The folks here have one goal in mind: to scare you as much as possible. Sound interesting? Here's what you can expect from a hair-raising trip to this haunted hayride in Minnesota.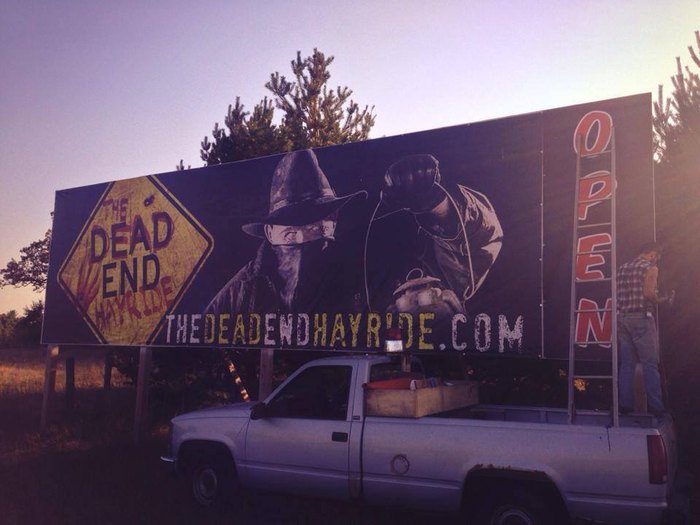 And if that's not enough to convince you, check out this freaky trailer from the 2015 hayride.
For more information, visit this attraction's website. Have you ever been brave enough to ride? Are you going this year? Let us know in the comments below! Don't forget to check out these beautiful fall destinations in Minnesota. Don't worry, these spots aren't spooky, they're scenic.
Address: The Dead End Hayride, 28186 Kettle River Blvd N, Wyoming, MN 55092, USA
haunted attractions in Minnesota
September 09, 2022
What are the most haunted places in Minnesota?
There are so many haunted places in Minnesota, that we'd have to break them down into categories. When it comes to haunted hotels in Minnesota, many people believe the Palmer House Hotel to be the most haunted. For haunted cemeteries in Minnesota, a visit to Roselawn Cemetery would turn even the hardest of skeptics. And don't think that schools are off-limits to ghosts, because St. Cloud State University has had its fair share of paranormal activity, too. Of course, nothing beats Anoka, a city in Minnesota that's known as the Halloween Capital of the World. 
What are the most popular ghost stories in Minnesota?
One of the most famous ghost stories in Minnesota centers around one of the most haunted places in Minnesota, and that's Duluth's Glensheen Mansion. As the story goes, Elisabeth Congdon was found murdered in the family home in 1977. She had been suffocated and she was found in her older sister's room, as well as Elisabeth's nurse, Velma. There was never enough evidence to convict the suspected killer and that may be the reason that so many people have claimed to have seen the apparitions of two women standing in an upstairs window. Others have witnessed lights flickering, objects moving on their own, and even strange mists appearing and disappearing. Could these things be signs that Elisabeth and Velma are trapped between worlds?
What are the creepiest places in Minnesota?
The creepiest places in Minnesota are often the ones you least expect, like roads. You might be surprised to learn that there are a few haunted roads in Minnesota and you can drive down one of them and see for yourself if the stories are true. Two of the most famous haunted streets in Minnesota are Timber Lake Road in central Minnesota and a stretch of County Highway 21 near Sherack. 
Address: The Dead End Hayride, 28186 Kettle River Blvd N, Wyoming, MN 55092, USA