This Haunted Road Trip Will Lead You To The Scariest Places In Minnesota
Whether you believe in ghosts or not, sometimes some places just seem… off. Eerie, creepy, like something is lurking in the shadows. If you really want to test your bravery and throw caution to the wind, you can explore some truly spooky spots on this haunted road trip in Minnesota. This trip will take you on a tour of some of the state's most well-known haunted spots from Hibbing all the way down to Stillwater.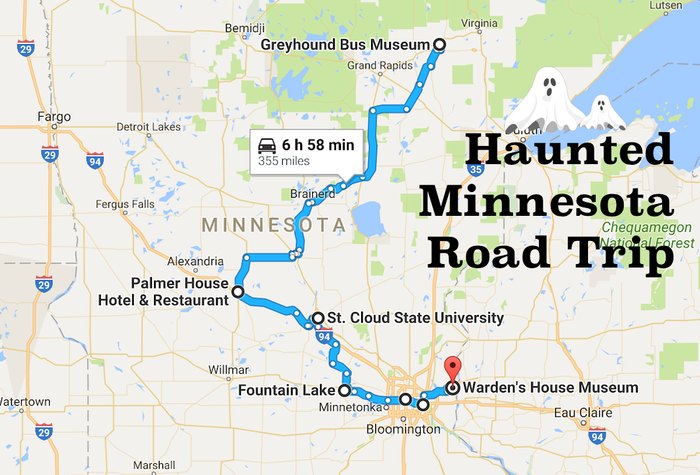 What do you think? Do you dare to take this trip? Would you add any other hauntings to the route? Learn more about Minnesota's scariest ghost stories here.
Address: Greyhound Bus Museum, 1201 Greyhound Blvd, Hibbing, MN 55746, USA
Address: Palmer House Hotel & Restaurant, 500 Sinclair Lewis Ave, Sauk Centre, MN 56378, USA
Address: 850 1st Ave, St Cloud, MN 56301, USA
Address: Fountain Lake, Minnesota 56007, USA
Address: 701 N 1st Ave, Minneapolis, MN 55403, USA
Address: 276 Exchange St S, St Paul, MN 55102, USA
Address: 602 Main St N, Stillwater, MN 55082, USA
Haunted Road Trip In Minnesota
April 23, 2021
What are the most haunted places in Minnesota?
If you're itching to check out more scary places in Minnesota, there are more you can test your bravery at. The West Hills Oprhanage in Owatonna, Minnesota is considered haunted. Residents and employees of the orphanage have claimed seeing ghosts and hearing disembodied laughs, as well as seeing books move seemingly on their own. The remote Ferguson Cemetery, located near the small town of Norwood Young America, Minnesota, has a notorious ghost of a little boy. Supposedly, if you visit and stand still, you can see him hanging around the graves.
Can I visit any abandoned places in Minnesota?
You can find abandoned places hiding around the Land of 10,000 Lakes if you know where to look. To make things easy, we put together a road trip to the most abandoned places in Minnesota. This drive will take you all over, visiting ghost towns and abandoned mines and everything in between. The way the buildings are being taken over by nature is truly a sight to see, so you'll want to go take the drive before they're gone forever. Some of them, like the abandoned hospital, are positively eerie. It's not unusual for a shiver to run down your spine when you see them in person.
What are the creepiest ghost stories in Minnesota?
When it comes to haunted places, there has to be something to haunt them. Minnesota has its fair share of ghost stories. There is a small town in the state that's considered one of the most ghost-infested of them all. Mantorville, Minnesota is one of the oldest towns in the state. It has many old buildings that predate the state itself, and some are said to be haunted. The Opera House is supposedly haunted and a restaurant called the Hubbell House is, too. You can learn more about the spooky spots in Mantorville here.
Address: Greyhound Bus Museum, 1201 Greyhound Blvd, Hibbing, MN 55746, USA
Address: Palmer House Hotel & Restaurant, 500 Sinclair Lewis Ave, Sauk Centre, MN 56378, USA
Address: 850 1st Ave, St Cloud, MN 56301, USA
Address: Fountain Lake, Minnesota 56007, USA
Address: 701 N 1st Ave, Minneapolis, MN 55403, USA
Address: 276 Exchange St S, St Paul, MN 55102, USA
Address: 602 Main St N, Stillwater, MN 55082, USA