Take This Quirky Road Trip To Visit Minnesota's Most Unique Roadside Attractions
Here in the Land of 10,000 Lakes, we have more than a few things to keep us occupied in every season of the year. Dozens of state parks, countless nature areas – and of course the 10,000 lakes from which we got our nickname – all add up to create the backbone of our beautiful state. But sometimes? It's good to get out and see the manmade beauty that Minnesota has to offer.
This road trip to some of Minnesota's most unique roadside attractions is a tour of Minnesota's quirky side, full of zany artwork and tributes to Paul Bunyan. While it would be impossible to plan a single trip to see every single roadside attraction in Minnesota, this trip should serve as a good starting point. With 9 cities and 10 stops, it'll take you to some of our most famous – and lesser-known – roadside wonders. See if you agree that this is one of the best road trips in Minnesota!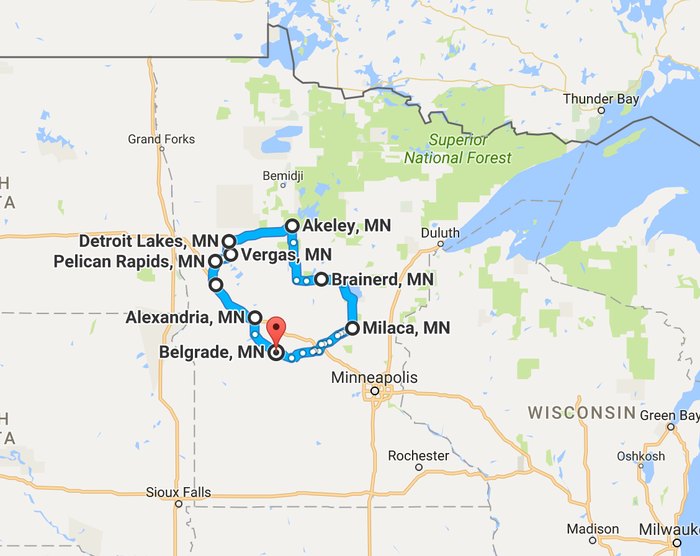 We know there are lots more roadside attractions in Minnesota. What are your favorites? Does your hometown have a unique attraction? Let us know in the comments! We hope you've enjoyed what we consider to be one of the best road trips in Minnesota. If you love checking out Minnesota's off-the-beaten-track places, you might like this road trip through Minnesota's most picturesque small towns.
OnlyInYourState may earn compensation through affiliate links in this article.
best road trips in Minnesota
September 16, 2021
What are some other fun road trips in Minnesota?
Minnesota is quite a large state, and one of the best ways to experience all that it has to offer is by driving through it. Whether you're seeking gorgeous scenery, quirky roadside attractions, bustling small towns, or delicious eats, there's likely a road trip catered to your specific interests. Are you someone who's fascinated by abandoned places? If so, you're in luck! We've compiled an itinerary that will showcase the most chilling, desolate buildings that have been left for ruin. Along the way, you'll see an abandoned bank in Hadley, an abandoned store in Northfield, Mill Ruins Park, Banning State Park, and the old Tanner Hospital. This abandoned places road trip isn't for the faint of heart! Looking for something a bit more nature-oriented? Check out our natural wonders road trip in Minnesota, which will take you to beautiful destinations such as Blue Mounds State Park, Minnehaha Falls, Interstate Park, Jay Cooke State Park, Gooseberry Falls State Park, Tettegouche State Park, Boundary Waters Canoe Area Wilderness, Eagle Mountain, Judge C.R. Magney State Park, and Grand Portage State Park. For more inspiration, check out our full list of the best road trips in Minnesota.
What are the best day trips I can take in Minnesota?
Day trips are a wonderful way to explore all that the Land Of 10,000 Lakes has to offer. Whether you're looking for a hidden gem restaurant or a breathtaking natural setting, you'll find that Minnesota has no shortage of remarkable day trips to enjoy. Some of our top recommendations would be the Hegman Lake Pictographs, Rapidan Dam Store, Eloise Butler Wildflower Garden, Father Hennepin State Park, and Black Beach. Learn more about these incredible day trip destinations in Minnesota.