The Scenic Road Trip That Will Make You Fall In Love With The Beauty of Minnesota All Over Again 
A road trip from Minnesota is one of the best ways to experience the beauty of the state. While most out-of-towners associate our state with Minneapolis and St. Paul, there are so many more things to do in Minnesota beyond the Twin Cities. And even when you cut out the state's other popular destination – the North Shore – Minnesota still offers plenty of beauty for locals and visitors to enjoy.
Today, we want to remind you why a Minnesota road trip is one of the best types of family-fun day trips. Below, you'll find one of the most scenic drives in Minnesota that will make you fall in love with our state all over again. It will guide you to beautiful lakes, waterfalls, prairies, and more. Curious to know more? Read on to learn about the route so you can start planning your trip!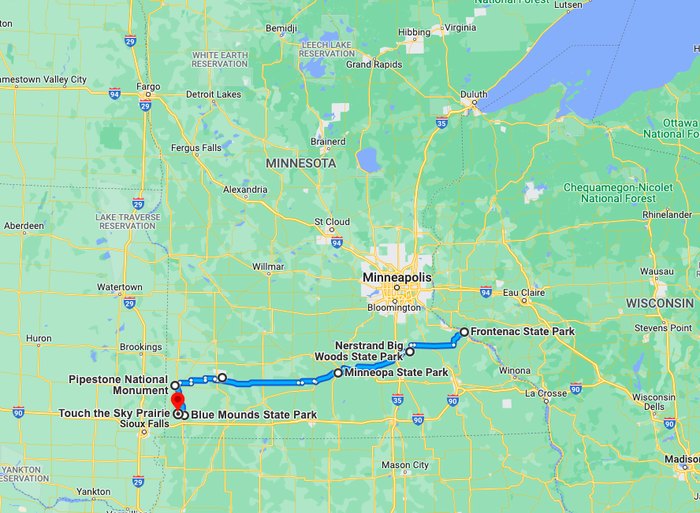 There you have it! What would you add to this road trip? Are there any other beautiful spots in Minnesota that you're itching to visit? Let us know in the comments!
To help you prepare for your Minnesota road trip with your family, take a look at our Road Trip Essentials Packing List & Guide. Here, you'll find everything you need to plan for a comfortable, fun, and memorable adventure with your loved ones. And if you'd like to follow another beautiful journey, check out our waterfall road trip through Minnesota.
OnlyInYourState may earn compensation through affiliate links in this article.
Road Trip From Minnesota
December 04, 2022
What are some of the best scenic drives in Minnesota?
Along with the above road trip, some of the best scenic drives in Minnesota include the following routes:
Highway 61
Gunflint Trail Scenic Byway
Waters of the Dancing Sky Scenic Byway
Minnesota River Valley National Scenic Byway
Lady Slipper Scenic Byway
Edge of the Wilderness National Scenic Byway
Take a look at these scenic drives in Minnesota to learn more.
What are some things to do in Minnesota?
Aside from taking a scenic road trip, there are many other things to do in Minnesota. Take a look at the following articles to get some ideas.
What are some other Minnesota road trips?
In addition to the southern road trip above, here are some other Minnesota road trips.