This Minnesota Waterfall Loop Will Take You To 8 Scenic Waterfalls
When most Minnesotans think of a Minnesota waterfall loop, our minds immediately go to the North Shore. And it's true, many of the state's most beautiful waterfalls are along this gorgeous section of Minnesota. But there are plenty of other waterfalls to discover in other regions of the state. In fact, almost every region has at least one waterfall. Today, we want to introduce a waterfall loop that will take you on a Minnesota waterfall tour of some of the prettiest falls in the Land of 10,000 Lakes. If you've ever researched "waterfalls near me in Minnesota," and you live in the southern part of the state, you'll be delighted to learn about these incredible falls. From familiar favorites to hidden beauties, the waterfalls on this scenic Minnesota waterfalls road trip are sure to impress.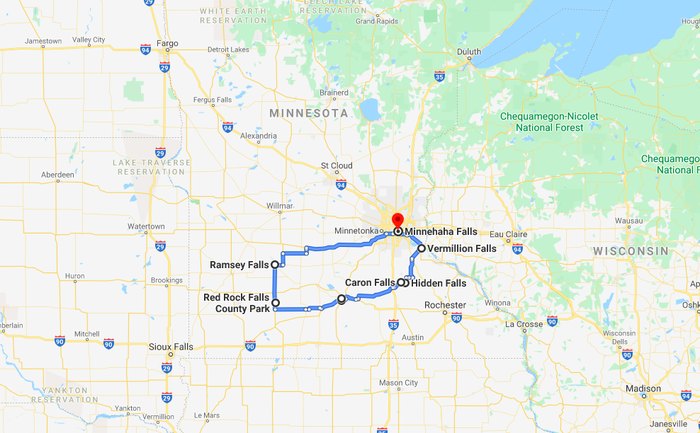 What do you think? Did we miss anything on this southern Minnesota waterfall loop? Let us know in the comments! If you're looking for a North Shore waterfall trip, check out our past Minnesota waterfalls road trip for a great waterfall route through northern Minnesota. We hope we've provided some inspiration for the next time you're wondering, "what are some waterfalls near me in Minnesota?" Happy exploring!
OnlyInYourState may earn compensation through affiliate links in this article.
More to Explore
waterfalls near me in Minnesota
What are Minnesota's most incredible waterfalls?
It stands to reason that a state nicknamed The Land Of 10,000 Lakes would also boast some pretty spectacular waterfalls. And it does! Now that you've learned about some beautiful waterfalls in southern Minnesota, it's time to learn about some of the state's other waterfalls. At the top of the list is Gooseberry Falls, located in the namesake Gooseberry Falls State Park. What makes this waterfall so spectacular is that there are three levels of falls and they're simply beautiful in any season. Plus, this natural wonder is located just steps from the parking lot, making it a fairly easy-to-access destination. Other waterfalls you'll want to check out include Highfalls, Illgen Falls, the falls at George H. Crosby Manitou State Park, Temperance River Falls, Cascades, the Devil's Kettle & Upper Falls, and the High Falls. Have you been to any of these iconic waterfalls in Minnesota?
Does Minnesota have any natural wonders?
Absolutely! If you're a fan of natural wonders, Minnesota will not disappoint. Some of our top recommendations would be Gooseberry Falls, Niagara Cave, Artist's Point, Devil's Kettle, St. Croix River Dalles, BWCA, Pigeon River High Falls, Blue Mounds State Park, Palisade Head, and Eagle Mountain. Eagle Mountain is particularly impressive because it's the single highest point in the state. Measuring 2,301 feet, this landmark offers breathtaking views of the surrounding landscape.
Related Articles
Explore Minnesota