This Epic One-Day Road Trip Across Minnesota Is Full Of Adventures From Sunrise To Sunset
Ready to hit the road, but maybe your schedule doesn't allow for a long trip? Minnesota is full of incredible destinations you can get to on one tank of gas, and this road trip in Minnesota takes you to some of our favorites. Set the alarm because this road trip starts with a beautiful sunrise and ends with a glorious sunset.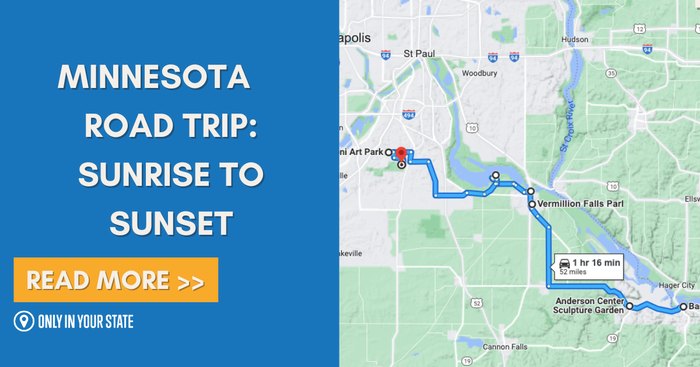 Inspired to see even more beautiful sights in Minnesota? Here are some of our favorite road trips in Minnesota to cross off your bucket list.
Address: Barn Bluff, Red Wing, MN 55066, USA
Address: Anderson Center Sculpture Garden, 161 Tower View Dr, Red Wing, MN 55066, USA
Address: Vermillion Falls Park, 215 21st St E, Hastings, MN 55033, USA
Address: American Legion Post 47, 50 Sibley St, Hastings, MN 55033, USA
Address: Spring Lake Regional Park Biketrail 1, Prior Lake, MN, USA
Address: Caponi Art Park, 1220 Diffley Rd, Eagan, MN 55123, USA
Address: Lebanon Hills Regional Trail, Eagan, MN 55123, USA