Take This Scenic Route And Drive Through 5 Minnesota State Parks In One Day
If you're looking for a weekend adventure, this one-day road trip through five Minnesota state parks tracks the scenic St. Croix River, and it requires fewer than two-and-a-half hours of total driving time between stops.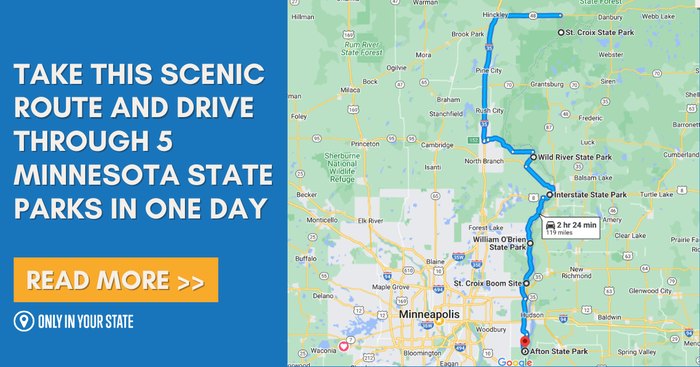 Be sure to leave time for lunch in Stillwater. We recommend Leo's Grill and Malt Shop for a quick and tasty meal.
Which of these parks have you visited? Have you put together your own Minnesota state parks road trip?
Address: St. Croix National Scenic Riverway, 401 N Hamilton St, St Croix Falls, WI 54024, USA
Address: St. Croix Boom Site, Stillwater, MN 55082, USA
Address: Wild River State Park, b n, 39797 Park Trail, Center City, MN 55012, USA
Address: St. Croix State Park, 30065 St Croix Park Rd, Hinckley, MN 55037, USA
Address: Interstate State Park, 307 Milltown Rd, Taylors Falls, MN 55084, USA
Address: William O'Brien State Park, 16821 O Brien Trail N, Marine on St Croix, MN 55047, USA
OnlyInYourState may earn compensation through affiliate links in this article.