The Ultimate Michigan Waterfall Road Trip Will Take You To 9 Scenic Spots In The State
You've been planning a road trip in the Upper Peninsula for the longest time, but you just haven't quite figured out how to maximize your time. Do you zigzag from one quaint mining town to the next? Do you focus on one specific area? How about touring one of Michigan's unsung heroes, our state's gorgeous waterfalls? All but maybe one of the 200 waterfalls in the Mitten are in the Upper Peninsula, which of course, means that you'll have an up close and personal view of some of the best waterfalls in Michigan. This epic Michigan waterfall tour will help you do exactly that.
We've ID'd some of the very best, which will take you from close to the Wisconsin border, east to nearly the full length of the UP, all in a day-long trip. The trip takes just over eight hours to complete. We have included a link to the Google Map so you can follow along.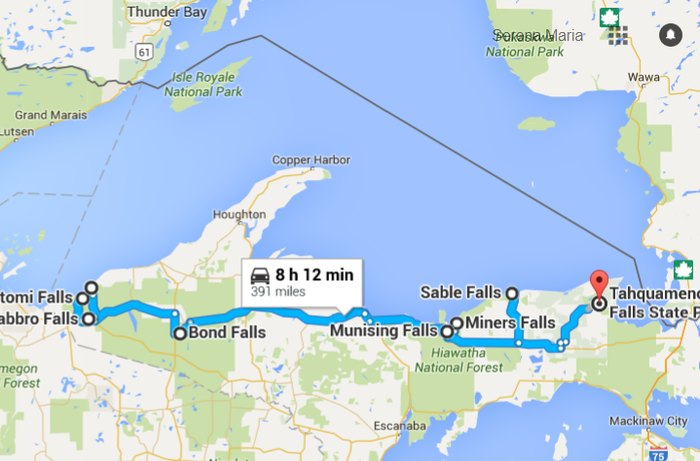 There it is, folks. A beautiful waterfall road trip in Michigan. We've covered so much ground in the UP, including some gorgeous falls on Lake Superior, some stops at the popular state and national park spaces, and some inland waterfalls that are no less beautiful to gaze upon.
While it's still early in the year, we encourage you to plan ahead for your next springtime adventure. Who knows? You may just stumble upon one of the best waterfalls in Michigan.
OnlyInYourState may earn compensation through affiliate links in this article.
Waterfall Hikes In Michigan
December 21, 2019
What are the best waterfall hikes in Michigan?
Michigan is rife with natural beauty, and there are all sorts of waterfall trails speckled throughout both upper and lower peninsulas. The moderate hike at Bond Falls Loop is just under a mile, and makes it easy for folks of all ages to indulge in a natural view. Laughing Whitefish Falls Trail, located in Rock River Township, isn't difficult at all and shows off the beautiful, and aptly named, Laughing Whitefish Falls. The only publicly accessible waterfall in the lower Peninsula that's considered a "major" waterfall is located near Millersburg, and is the popular Ocqueoc Falls. Looking for an 800-foot point of natural majesty? Check out Munising Falls, near Munising. It's almost overwhelming how stunning it is, and the short hike that leads to the falls is perfect for everyone. It's true. Some of the best waterfalls in Michigan can simply be found alongside a scenic walk through the woods.
What is the largest waterfall in Michigan?
The largest waterfall in Michigan can be found on the beautiful Upper Peninsula, and is known as the stunning Tahquamenon Falls. As one of the largest waterfalls east of the Mississippi, it makes Michigan proud with its 200-foot span and 50-foot drop into the expansive Tahquamenon River. It's $9 for a single day pass into Tahquamenon Falls State Park, and the price includes access to both the Upper and Lower Falls sights.
Are there any other scenic hikes in Michigan?
Michigan is one of the most lushly forested and scenic states in the nation. Since it boasts four seasons and an equally diverse terrain, there's no end to the beauty of a Michigan-centric experience. The North Country National Scenic Trail in Lowell is just a quarter of the 4,600 mile path, but with 1,150 miles in the state of Michigan you'll see everything from vast views of Lake Superior to miles spend in the cool quiet of the woods. Greenstone Ridge Trail in Isle Royale State Park is considered a difficult train, and interestingly enough the national park itself is the least visited park in the lower 48 states. Why? It's remote and thoroughly rustic, but the experience is truly breathtaking. Although you'll be filtering your own water, you'll have breathtaking views of northern Lake Superior.