It's Impossible To Forget These 9 Horrific Winter Storms That Have Gone Down In Kentucky History
The Bluegrass State is a mild and easygoing place, offering residents a slower pace of life and congenial Southern experience. This extends to our weather, too; while we experience all four seasons here in Kentucky, they are generally not too extreme in terms of storms and temperatures. But there are some exceptions, as you'll see in the following list of nine horrific winter storms in Kentucky. Take a look and let us know if you remember any of these epic ice storms in Kentucky! If you do, don't forget to tell us your amazing stories of survival (or maybe even just boredom while snowed/iced in) in the comments!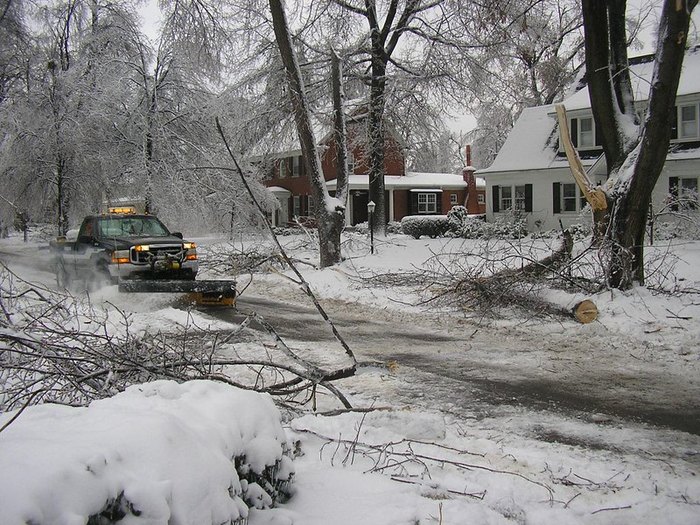 Wondering what to expect during the winter in Kentucky? We like to follow the Old Farmers' Almanac, which has a pretty good success rate at accurately forecasting Kentucky winters.
OnlyInYourState may earn compensation through affiliate links in this article.
Kentucky Ice Storms
November 16, 2022
What are some memorable Kentucky ice storms?

 
Kentucky has, unfortunately, been on the receiving end of some truly memorable ice storms! Some of the most notable Kentucky ice storms throughout history are:  
If anyone from Kentucky says they don't go through these thoughts and feelings during one of our amazing storms, they're probably not being honest.   
2. How severe was the Louisville ice storm in 2009?  
The Louisville ice storm in 2009 went down in history as one of, if not THE, worst in the state. Unrelenting and terrifying, this beast of a storm coated the entire city with at least one inch of ice (two inches in parts of west-central KY). Other frightening aspects of the storm included:  
Thousands of residents were left without power for days on end – it was the largest Kentucky power outage on record

 

An extra 3-6 inches of snow on top of the ice

 

24 lives lost

 
3. How common are ice storms in KY?  
Ice storms in KY are not at all unheard of. This region of the United States, thanks to its location and the seasonal patterns that exist here, is prone to ice storms. Unfortunately, other than stocking up on food, water, and other necessities, there isn't much one can do about it – other than survive, which, with preparation, is absolutely doable.  
OnlyInYourState may earn compensation through affiliate links in this article.