The Story Behind Illinois' Most Haunted House Will Give You Nightmares
The McPike Mansion has been called one of the scariest structures in the United States and it definitely ranks as one of the most haunted houses in Illinois. Originally built in 1869 by Henry Guest McPike, it is located in Alton, Illinois (a town with a haunted history in itself). When you look over the McPike Mansion's history, you'll quickly learn it has repeatedly been the center of paranormal investigations. According to the owner, two ghosts haunt this property: former owner Paul Laichnger and a former domestic servant named Sarah Wells. Flashlights will die out unexpectedly and lights will flicker. There is a strong smell of lilac in the attic, which is the kind of perfume Wells used to wear. What is really creepy is how things look in photos. You might see figures or orbs of light in photos that were definitely NOT in the shot.
The structure is on the National Register of Historic Places. It stayed abandoned for quite a while before being purchased. It would have been restored and converted into a hotel, but it was not eligible for grant money despite prior assurances. Nevertheless, you can visit and go on a tour of the haunted McPike Mansion in Illinois. There are also annual campouts held in the McPike Mansion
Here are some pictures of the McPike Mansion: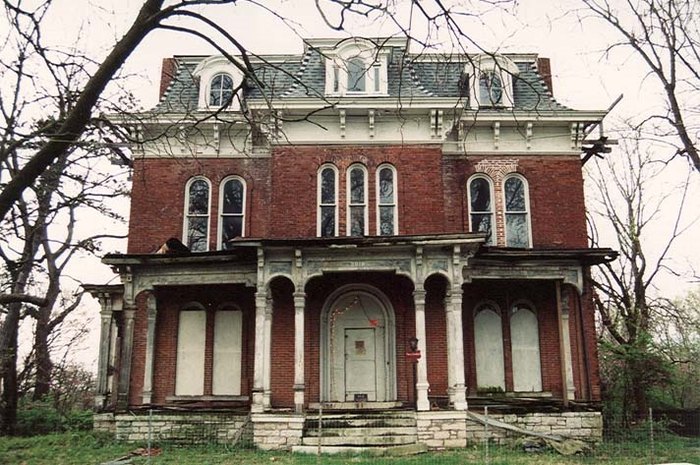 And here is a video of the McPike Mansion:
Have you visited this mansion? Did you have any ghostly encounters? Do you agree that it's the most haunted house in Illinois? Whatever it is, tell us!
The McPike Mansion isn't the only spooky spot in the state. You'll find everything from eerie cemeteries to haunted houses in Illinois. If you ask us, these are the most haunted places in Illinois. And if you want to find more creepy happenings in Illinois, take a look at Airbnb Experiences for some out-of-the-box activities.
OnlyInYourState may earn compensation through affiliate links in this article. As an Amazon Associate, we earn from qualifying purchases.
More to Explore
Most Haunted House In Illinois
What are the creepiest places in Illinois?
The McPike Mansion is one of many haunted locales in Illinois. There are several creepy spots in the state, including one that's hiding in plain sight:
Yes, we're talking about the Couch Tomb in Lincoln Park.

Today, the 1,208-acre park serves as an urban oasis – complete with a famous zoo and museums; however, that wasn't always the case.
Long ago, the area was filled with tombs – most of which were destroyed during the Great Fire of 1871. One tomb survived, and that tomb is, you guessed it, the Couch Tomb.
In 1998, the tomb was opened and researchers were met with an unexpected discovery: the tomb held roughly 80 bodies!
Ever since many passersby claim to hear and see strange things surrounding the historic burial site.
Are there any haunted hotels in Illinois?
Haunted locales in the state come in all shapes and sizes, including hotels:
One notoriously haunted hotel is the Congress Plaza Hotel on Michigan Avenue.

It was actually named the most haunted place in the state back in 2016 by Travel + Leisure. Once you learn the hotel's history, its spooky reputation makes complete sense.
First off, the hotel is over 100 years old, so its history is a lengthy one.
Second, lots of infamous figures have stayed in the hotel over the years, including Al Capone, who is often spotted near his old suite on the hotel's eighth floor.
The hotel's resident ghosts don't end with Capone, though.
There are a few other phantoms, who call the Congress Plaza Hotel home including Peg Leg Johnny, who seems to be playful, getting his kicks from turning lights and electronics on and off.
Related Articles
Explore Illinois
Featured Addresses

McPike Mansion, 2018 Alby St, Alton, IL 62002, USA