Don't Drive On This Haunted Street In Illinois Or You May Regret It
Illinois is known for many things: charming small towns, friendly locals, and beautiful landscapes. Yet there's another side to Illinois, and it's incredibly haunted. Here in Illinois, it's not too difficult to find real-life haunts and thrills. Thrills are exactly what you will get at Acid Bridge. Lebanon Road in Collinsville, Illinois is one of the most haunted places in the state. This road has seven railroad bridges over it. They are colloquially referred to as the "seven gates of Hell." As the story goes, if someone drives under all of these bridges at midnight, he will go to Hell by way of a portal. All of the bridges are supposedly guarded by Hell Hounds. The terrifying stories surrounding this bridge are not new, either. They have been circulating for some 40 years. Learn more about the Acid Bridge in Troy; what may very well be the most haunted bridge in Illinois – if you dare!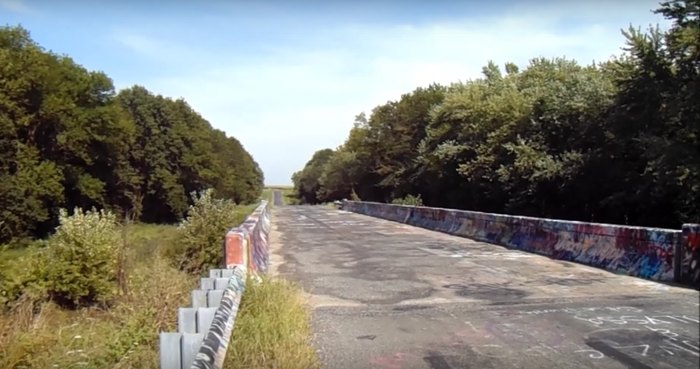 What do you think about Acid Bridge? Do you believe that it's the most haunted bridge in Illinois? Feel free to share your thoughts with us in the comments – we would love to hear from you! Looking for more haunted places in Illinois? Check out this road trip that takes you to the scariest places in Illinois. Just be warned… it's not for the faint of heart!
OnlyInYourState may earn compensation through affiliate links in this article.
More to Explore
Most Haunted Street In Illinois
Does Illinois have any haunted hotels?
A haunted hotel in Illinois is the DeSoto House Hotel.
Now that you've learned about one of the most haunted roads in Illinois, you might be curious to check out some of the state's other spooky spots. When it comes to haunted hotels, Illinois has its fair share. One of the most haunted places to stay in Illinois is known as the DeSoto House Hotel. Located in the town of Galena, this hotel has quite a paranormal reputation. Despite being a rather small town, Galena is notorious for its ghostly residents, many of whom seem to reside in the DeSoto House Hotel. Step inside and you'll discover a stately hotel with 55 Victorian-style rooms. In fact, it's the oldest hotel in the state and opened its doors in 1855. Tragically, the hotel caught fire in 1859 and again suffered damage from a basement explosion in 1869. One of the most famous paranormal experiences is encountering the "Lady in Black," who roams the hallways and then disappears into the wall. Whether you believe in ghosts or not, you'll agree that the famous DeSoto House Hotel offers a unique way to step back in time.
Does Illinois have any haunted bridges?
A haunted bridge in Illinois is the Airtight Bridge.
One of the most haunted bridges in Illinois has actually been around since 1914. Airtight Bridge can be found in Ashmore, and it's a historic bridge with quite a sinister past. Tragically, the body of a woman was found just a few feet from this bridge in 1980. Since the discovery of her body, some strange things have occurred at the site of the bridge. For example, vehicles have been known to stall on the road leading to the bridge. Have you ever visited the most haunted bridge in Illinois?
Related Articles
Explore Illinois
Featured Addresses

Lebanon Road, Lebanon Rd, Illinois, USA