One Of The Most Haunted Cemeteries In Illinois Is Also The Most Beautiful
Graceland Cemetery in Chicago is a fascinating destination for both locals and visitors to the city. Sports, politics, architecture, and more – no matter your interest, you'll find the graves of some of the state's most noteworthy historical figures in this Lakeview neighborhood burial ground. A casual stroll through the 121-acre property is calming and beautiful in all kinds of weather. But if you're creeped out by cemeteries, be warned: This one has ghost stories just like all the rest. In fact, Graceland may be one of the most haunted cemeteries in Illinois, so it's probably a good idea to avoid visiting this graveyard alone.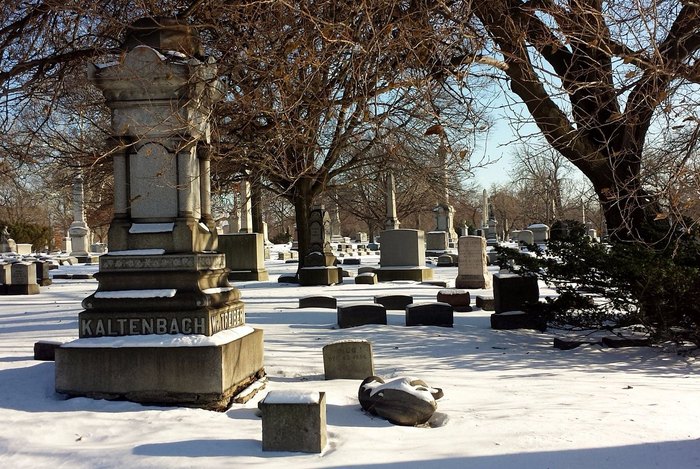 Graceland Cemetery is not open to the public at all hours, so be sure to check out its website to get up-to-date information about when you can visit. If you're up for more creepy fun, consider a tour of some of the Land of Lincoln's spookiest spots, including haunted cemeteries in Illinois.
Have you ever walked through this haunted cemetery in Chicago? What was the coolest grave you saw? And did you sense any spirits? Give us a full description in the comments below!
OnlyInYourState may earn compensation through affiliate links in this article.
More to Explore
Haunted cemeteries in illinois
Are there other haunted cemeteries in Illinois?
There are many haunted cemeteries in Illinois with reputations as places that spirits, ghosts, and other paranormal beings frequent.
In fact one of the most haunted cemeteries in the world is located just southwest of Chicago in the small town of Midlothian. Strangely, Bachelor's Grove Cemetery isn't even that old - it was first used as a burial ground in the early 20th century, and the last burial took place in 1989.
But this small graveyard (at about one acre) fell into disrepair, those who may have cared about those buried there having faded into into the past themselves. Now derelict and abandoned, Bachelor's Grove Cemetery has been vandalized, gravestones toppled, broken, or in some cases, removed entirely. Visitors report apparitions, floating orbs of light, and otherworldly sounds emanating from the cemetery and the woods that surround it. This is a cemetery you probably don't want to visit at night - and if you do walk through it, you may just find it to be the creepiest hike in Illinois.
Other haunted cemeteries in Illinois include:
Showmen's Rest at Woodlawn Cemetery in Forest Park
Aux Sable Cemetery in Minooka
St. Omer Cemetery in Ashmore
Greenwood Cemetery in Decatur
Related Articles
Explore Illinois
Featured Addresses

4001 N Clark St, Chicago, IL 60613, USA