These Creepy Images Of An Abandoned Illinois Mental Hospital Will Give You Goosebumps
Located in rural Kankakee County, Manteno State Hospital opened in 1930. It was a psychiatric hospital, most densely populated in the mid-1950s.
Many disturbing things took place here, as you can imagine would be the case at a mental hospital during this time period. For example, there were numerous lobotomies performed, shock treatments, fever cabinets, etc. Manteno State Hospital was also where many government scientists were sent. While here they would perform experiments on patients that would be considered highly unethical today. It would not have been pleasant to be a patient here. Fortunately, over the years, mental health treatment has changed drastically. However, with that being said, this was the cutting edge during this particular time period.
Interestingly, things started out fairly idyllic at Manteno State Hospital. Patients would tend to fields, as the hospital was set out in a bucolic setting. There were plenty of dedicated doctors and other nursing staff. Then, "Manteno Madness" took hold (typhoid fever), which ended up killing 47 people. Then there was a snowball effect. The hospital became incredibly crowded, and corners were eventually cut.
Manteno State Hospital's doors closed in 1985. Yet, many people consider this hospital to be one of the most haunted sites in all of Illinois. There have been claims of ghosts walking the hallway, strange auras, and bizarre sounds. Listed below are some creepy images of the Manteno hospital. Some of them might even give you goosebumps.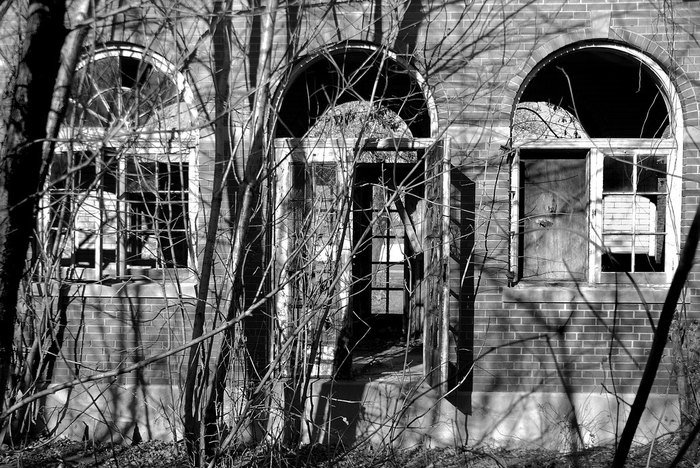 Listed below is a video with additional images that will give you a better sense of what this abandoned Illinois hospital was really like:
Have you ever visited where Manteno State Hospital once was? If so, please feel free to share your experience with us in the comments below.
OnlyInYourState may earn compensation through affiliate links in this article.
More to Explore
haunted places in illinois
In addition to Manteno State Hospital, what three other haunted places in Illinois will give you goosebumps?
Besides this haunted hospital in Illinois, there are plenty of other haunted places throughout the state that will certainly give you goosebumps. Three of these haunted places in Illinois are listed below.
1. Greenwood Cemetery in Decatur
Greenwood Cemetery, which is located in Decatur, is so old that many of its grave markers date back to before it was an official cemetery in 1857. It's one of the most haunted places in Illinois. One of the most haunted parts of Greenwood Cemetery is the area featuring a Civil War Memorial, which commemorates a crew of soldiers who died from Yellow Fever while passing through the town on a prison train. It's believed the ghosts of these soldiers haunt the cemetery today.
The McPike Mansion in Alton is believed to be haunted by the ghosts of former owner Paul Laichnger and a domestic servant named Sarah Wells. There have been reports of flickering lights, the strong smell of lilac in the attic, flashlights going off, etc.
3. Woodstock Opera House in Woodstock
Located in Woodstock is the historic Woodstock Opera House. As the story goes, an actress who was turned down for a role in a play haunts this opera house. Due to being upset, she committed suicide by leaping from the building. Over the years, many people have spotted her ghost roaming the halls and sitting in the seats.
Is there a haunted bridge in Illinois with an eerie past?
There are several haunted bridges located throughout the United States. One of the most haunted bridges in Illinois is Airtight Bridge in Ashmore. Airtight Bridge, which was built in 1914, spans the Embarras River and has an eerie past. In 1980, the corpse of a nude woman was discovered approximately 50 feet from the bridge. According to reports, her body was missing its head, hands, and feet. Divers searched endlessly for these missing body parts, but they had no luck. The woman was laid to rest with no identity. Thanks to DNA, the murder mystery was solved in 1992. Her name was Diana Marie Riordan-Small, and she was murdered by her husband, Thomas A. Small. Thomas was convicted of murder in 2017. Today, Airtight Bridge is believed to be haunted by Diana's ghost.
Related Articles
Explore Illinois
Featured Addresses