This Natural Wonders Road Trip Will Show You Arkansas Like You've Never Seen It Before
No matter what time of year it is a road trip is a great way to experience something new. What if I told you that in just 11 hours of driving time, you could see 10 of Arkansas's most incredible sights? The Natural State is chock-full of natural wonders, and we've mapped out 10 natural wonders in Arkansas for your next epic road trip. Most of us working stiffs only get weekends for adventures, but you'll want to linger at every one of these places, so let's consider this adventure just perfect for a three-day weekend. Most of these places are already on your Natural State Bucket List, so really you'll be killing two birds with one stone in the course of one epic road trip. That third day you need off work? Well, I think you have a fever. And is that a cough I heard? Luckily the only cure is the open road and these 10 slices of heaven.
Visit this link for a map plotting all of the places you'll see.
Please note, Blanchard Springs Caverns has a seasonal schedule and is closed during the winter months.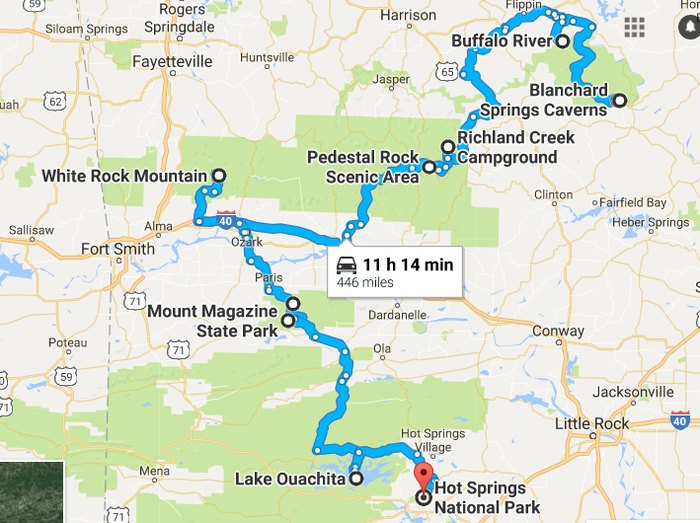 With so many beautiful areas and natural wonders in Arkansas to explore, a road trip is a great way to see and do more than simply plopping down in one location for your entire vacation. Which of these beautiful places in Arkansas are you looking forward to the most? Let us know with a comment.
If you really love exploring the state on a road trip, you definitely don't want to miss this weekend road trip in Arkansas.
If you'd rather set out on AR road trips that only require one tank of gas, this is the trip for you.
OnlyInYourState may earn compensation through affiliate links in this article.
More to Explore
More beautiful places in AR
What are some natural wonders in Arkansas?
Arkansas is a pretty special place with so many wonderful natural wonders to explore. From the Arkansas Grand Canyon in the Ozarks to waterfalls splashing down from epic heights, and lakes, rivers, and scenic overlooks that take your breath away - Arkansas has a lot to offer the outdoor lover in you. Here are a few natural wonders in Arkansas we think you'll enjoy:
The Grand Canyon of the Ozarks: While not as famous as the big 'ol Grand Canyon that gets all of the attention, the Ozarks is a gorgeous spot that those in the know are happy to keep all to themselves. You'll find the AR Grand Canyon along the stunning Scenic Byway 7 a few miles from Jasper.
Ozark National Forest waterfall loop: If you love a good hike with a plummeting waterfall surprise, you'll love this scenic waterfall tour through the Ozark National Forest. With 13 different waterfalls to discover this day-trip exploration really needs to be on your bucket list. There is even a waterfall you can drive under!
Natural Bridge of Arkansas: If you enjoy the epic views of a natural stone bridge carved out of the earth, Arkansas has a beautiful one. At 120 feet long and 12 feet high it isn't as high up as some, but the hiking in the area is certainly worth coming back for again and again.
For even more natural wonders to explore in Arkansas check out this list of 11 beautiful places in Arkansas that are definitely worthy of a road trip.
Related Articles
Explore Arkansas