Spend Three Days In Three State Parks On This Weekend Road Trip In Arkansas
It is no accident that Arkansas is known as the Natural State. It's the state in the Ozarks with endless natural wonders that appeal to all outdoor enthusiasts. We have some of the best state parks in the country, and they are all worthy of a weekend road trip. But for now, we will only visit three of these parks and explore all that they have to offer on this road trip in Arkansas.
Let's begin our road trip with some adventure at Mount Magazine State Park, and end it by relaxing at DeGray Lake State Park.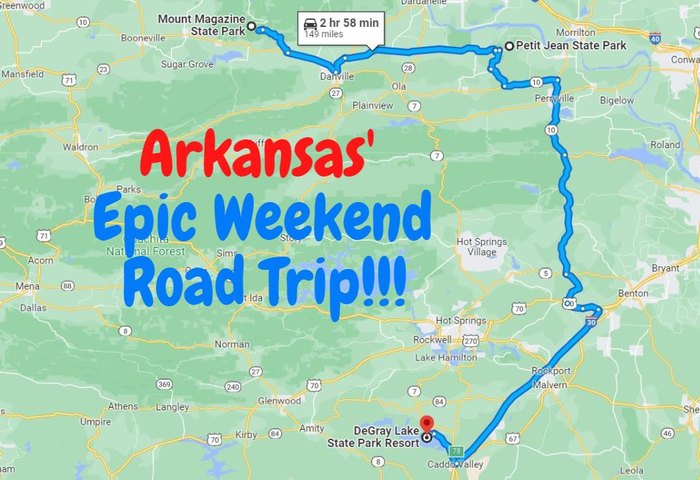 This three-day road trip is family-friendly, but plan ahead and decide what trails and activities suit your family the best. Also, do make your reservations at each of the lodges inside the parks. 
So, are you ready for this epic weekend road trip in Arkansas? Tell us in the comment what adventures you will choose or include. 
Looking for more great road trips? Try one of these 11 Arkansas Road Trips on your next vacation!
OnlyInYourState may earn compensation through affiliate links in this article.
Address: Mount Magazine State Park, 577 Lodge Dr, Paris, AR 72855, USA
Address: Petit Jean State Park, 1285 Petit Jean Mountain Rd, Morrilton, AR 72110, USA
Address: DeGray Lake State Park Resort, 2027 State Park Entrance Rd, Bismarck, AR 71929, USA
Road Trip In Arkansas
April 21, 2023
What are the most scenic drives in Arkansas?
Arkansas is a state of natural beauty and diversity, with plenty of scenic drives that will take your breath away. From winding mountain roads to rolling farmland and picturesque small towns, there's something for everyone. 
Here are some of the most stunning drives in Arkansas:
How long does it take to drive through Arkansas? 
On average, it takes 5-6 hours to drive through Arkansas. But the time it takes you to drive through Arkansas can vary depending on a few factors. Are you planning to make any stops to check out some of the state's stunning natural attractions, like Hot Springs National Park or the Ozark Mountains? Or are you on a mission to get from point A to point B as quickly as possible?
Assuming you're driving straight through, Arkansas is about 280 miles long from east to west and typically takes around 5-6 hours to traverse. Of course, this can vary depending on your route, the time of day, and the traffic conditions you encounter.