This Is The Year To Plan A Trip To Hot Springs, Arkansas' 100 Year Old National Park
In 2021, Hot Springs National Park celebrated its centennial, (can you believe it?!) Centered around the natural hot springs in Arkansas, this park is a true treasure – one that everyone should visit at least once. It is the oldest national park, after all. It's been around longer than Yellowstone! But that's not its only claim to fame. It's also extremely accessible, since a large portion of downtown Hot Springs Arkansas is part of the park. Last, but definitely not least, it's the only place to visit hot springs in Arkansas! Let's take a quick tour and see just a snippet of what Hot Springs National Park has to offer.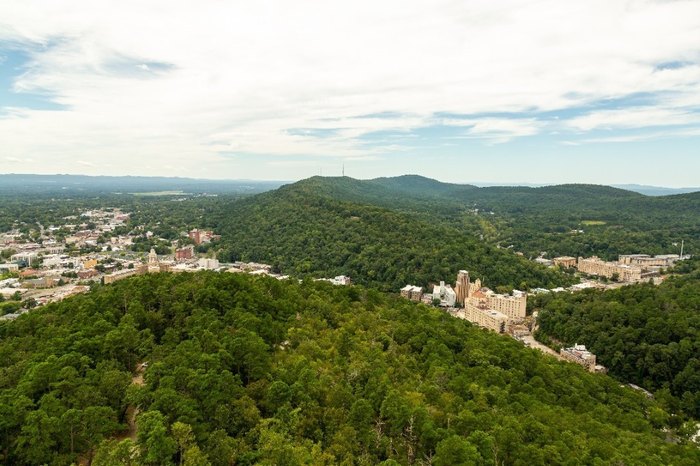 So, what do you think, are you ready to check out Hot Springs National Park? Have you ever visited the natural hot springs in Arkansas? If so, what'd you think?
The hot springs in Arkansas are a great way to warm up in winter; however, they're not the only seasonal must-visit. There are several great winter getaways in Arkansas. Take a look at our list of the best towns in Arkansas to visit in the winter.
OnlyInYourState may earn compensation through affiliate links in this article.
Address: Hot Springs, AR, USA
Hot Springs In Arkansas
December 30, 2021
Are there any hot springs resorts in Arkansas?
There are several hot springs resorts in Arkansas, including the Arlington Resort Hotel and Spa. One of the state's oldest hotels, it's been hosting overnight guests since 1875! In addition to comfy accommodations, the resort boasts tons of amenities, such as front-door access to the neighboring Hot Springs National Park. Even better, the on-site spa, the Arlington Bath House, offers tons of services. What really sets the spa apart from others, though, is that thermal waters from the nearby hot springs are piped directly into it, allowing visitors to enjoy thermal whirlpool baths right in the spa.
What are some great winter getaways in Arkansas?
As far as great winter getaways in Arkansas go, there are tons of options. One place that should be visited before the season's end is Mount Magazine State Park. Easily one of the best winter getaways in Arkansas, the park is brimming with perks. For adventure-seekers, there are paved bike lanes, hiking trails, and, the park's centerpiece, Mount Magazine. Those who prefer to snuggle up and keep warm will adore the park's cozy cabins, on-site restaurant, and heated indoor pool.
Aside from natural hot springs in Arkansas, what are some other must-visit natural wonders?
When it comes to natural wonders in Arkansas there are plenty (it is the Natural State, after all!) With so many natural wonders to choose from, it can be easy to overlook a few, and one you don't want to overlook is Crater of Diamonds State Park in Murfeesboro. Utterly unique, it's home to the only public diamond-producing site in the world. Not only can park-goers dig for diamonds, but, thanks to the park's "finders, keepers" policy, everyone gets to keep what they find. There's a lot more to the park than its 37.5-acre diamond field, though. The 911-acre park features an array of flora and fauna as well as walking trails, picnic sites, campsites, a gift shop, and seasonal water park.