Posted in USA
January 21, 2023
You'll Want To Walk Behind These 10 Stunning U.S. Waterfalls ASAP
All around the country, you can find gorgeous natural wonders that are exciting to explore. If you're looking for an adventure that you'll never forget, try going for a stroll behind a waterfall – you'll get a completely different perspective. Here are 10 U.S. waterfalls you can walk behind that you will never forget!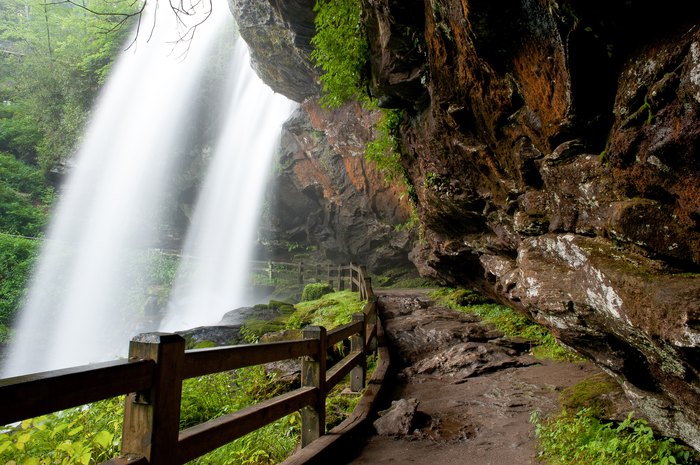 We're lucky to live in a country that has so many exciting outdoor adventures like this! Have you ever visited these exciting spots, or been to waterfalls with caves behind them? If so, we'd love to read about your experiences in the comments section below.
Beyond this, which waterfall is your favorite to walk behind in America? Let us know about this as well!
If you want to enjoy more of nature our country has to offer, check out this video which sheds a light on some of the least visited national parks (perhaps you can help change that!):
OnlyInYourState may earn compensation through affiliate links in this article.
Waterfalls near me
March 15, 2022
What are some of the tallest waterfalls in the U.S.?
The U.S. is a waterfall chaser's paradise and is home to some of the most spectacular falls on the planet. California is particularly flush with fabulous falls -- and even firefalls! -- and while each is extraordinary, there's one world-famous waterfall that's truly on another level. Yosemite Falls isn't just the largest waterfall in California, it's the tallest waterfall in all of North America. Yosemite is the fifth-largest waterfall in the entire world, dropping a total of 2,425 jaw-dropping feet from the top of the upper fall to the base of the lower fall. Seeing it with your own eyes is definitely an experience worth seeking out.
Another superlative stunner is in Yellowstone National Park, a national treasure that's truly a waterfall chaser's playground. The national park is home to upwards of 45 glorious cascades, the tallest and most visited of which is Lower Falls. This waterfall is a vision; it cascades down from a height of 308 feet and is nearly twice as high as Niagara Falls. And Lower Falls also has something Niagara doesn't have: a scenic location at the head of the Grand Canyon of the Yellowstone River. This prime location sets the stage for a bold and breathtaking view that's truly bucket-list-worthy.
What are some bucket-list-worthy waterfall hikes in the U.S.?
One of our favorite waterfall hikes in the U.S. is located at Utah's Grand Staircase Escalante National Monument, where you'll find a hidden oasis with a duo of dazzling waterfalls: Upper Calf Creek Falls and Lower Calf Creek Falls. The latter is the larger of the two; a 126-foot waterfall that rushes into a resplendent cerulean pool. The hike to these falls is as wow-worthy as the falls themselves, so take your time and allow yourself to feel the immense beauty of Utah's treasured Grand Staircase-Escalante natural area.
Another epic waterfall hike is located on the Minnesota/Canada border: the hike to High Falls, a 120-feet fall of pure power that will leave you completely spellbound. The 1.2-mile hike to access this waterfall is almost as swoon-worthy as the falls themselves, too. A well-marked trail that's perfect for all skill levels, the hike ends at a scenic overlook. Prepare to be dazzled: there is no sight quite like the rushing waters of the High Falls as they tumble over the cliff on their way to Lake Superior.