The Ultimate Southern California Waterfalls Road Trip Is Right Here And You'll Want To Do It
It's hard not to love the sight and sound of a waterfall — especially on a hot summer day. So what's better than seeing only one waterfall? How about an entire weekend devoted to seeing MANY waterfalls?!
Because we know how much you love all the natural beauty offered here, we've put together the ultimate SoCal waterfalls road trip that will take you to some of our favorite falls. Some are big, some are small, and some are perfect for an afternoon swim. You may not be able to hit all of these in a single day or even in a single weekend, but pick a few that are close to home and use our customizable map to navigate your way there.
All of the falls on this list require a hike, so make sure to plan accordingly. Bring comfy shoes, lots of water, and a healthy dose of sunscreen. Ready to hit the road?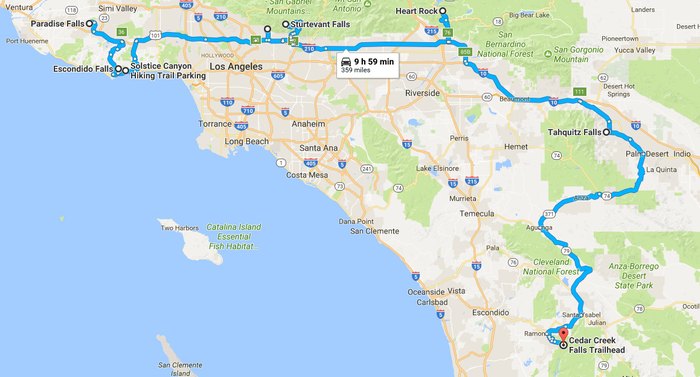 So there you have it — the incredibly fun ultimate SoCal waterfalls road trip leading you to the most beautiful waterfalls. You may not be able to reach them all in a single trek, but you can definitely pick and choose the ones that are close to home and make a day trip out of it.
If you're seeking more SoCal fun this summer, you'll want to wander to these 11 destinations in Southern California that are perfect for a staycation.
Address: 928 W Avenida De Los Arboles, Thousand Oaks, CA 91360, USA
Address: 27200 Winding Way, Malibu, CA 90265, USA
Address: 3455 Solstice Canyon Rd, Malibu, CA 90265, USA
Address: 1750 N Altadena Dr, Pasadena, CA 91107, USA
Address: Chantry Flat Rd, Arcadia, CA, USA
Address: 250 CA-138, Crestline, CA 92325, USA
Address: 500 W Mesquite Ave, Palm Springs, CA 92264, USA
Address: 15519 Thornbush Rd, Ramona, CA 92065, USA
Ultimate SoCal Waterfalls Road Trip
April 15, 2021
What is the tallest waterfall in Southern California?
Big Falls in San Bernardino County is considered to be the tallest waterfall in Southern California at a total height of 500 feet, although the impressive top part of the falls is only about 150 feet before continuing down to the river below. If you want to do a shorter version of the waterfall road trip above, here is our Southern California's Tallest Falls Road Trip that will take you to four of the tallest waterfalls in SoCal.
What are the best hikes to take in Southern California?
Along with Southern California's unparalleled beauty comes extraordinary hiking trails that lead to the most scenic spots. Hummingbird Trail in Simi Valley is a 5-mile trek that leads through incredible rock formations and rocky terrain. Torrey Pines State Reserve in La Jolla is so picturesque that you won't even notice you're breaking a sweat hiking; you'll be too busy being wowed by the beauty all around you! And did you know that redwood trees exist in Southern California too? Head to Carbon Canyon Regional Park Redwood Grove in Orange County and take a magical 2.5-mile hike through a forest of these massive enchanting trees.
Are there any other road trips I can take in Southern California?
We've all heard of the seven wonders of the world, but how about the seven wonders of SoCal? Using our handy Scenic Road Trip guide, you can take a few days to visit marvelous places like the otherworldly Zabriskie Point in Death Valley, the lava tube at Mojave National Preserve, the Sunny Jim Sea Cave in La Jolla, and more!
Address: 928 W Avenida De Los Arboles, Thousand Oaks, CA 91360, USA
Address: 27200 Winding Way, Malibu, CA 90265, USA
Address: 3455 Solstice Canyon Rd, Malibu, CA 90265, USA
Address: 1750 N Altadena Dr, Pasadena, CA 91107, USA
Address: Chantry Flat Rd, Arcadia, CA, USA
Address: 250 CA-138, Crestline, CA 92325, USA
Address: 500 W Mesquite Ave, Palm Springs, CA 92264, USA
Address: 15519 Thornbush Rd, Ramona, CA 92065, USA