We Dare You To Take This Road Trip To Southern California's Most Abandoned Places
If you love a thrilling road trip, then you'll want to jump in your car right away and hit the road on an adventure to see some of the most captivating abandoned places in Southern California. From a creepy abandoned zoo to a hauntingly beautiful hand-carved tunnel, this fun itinerary will keep you in awe. Ready to hit the road?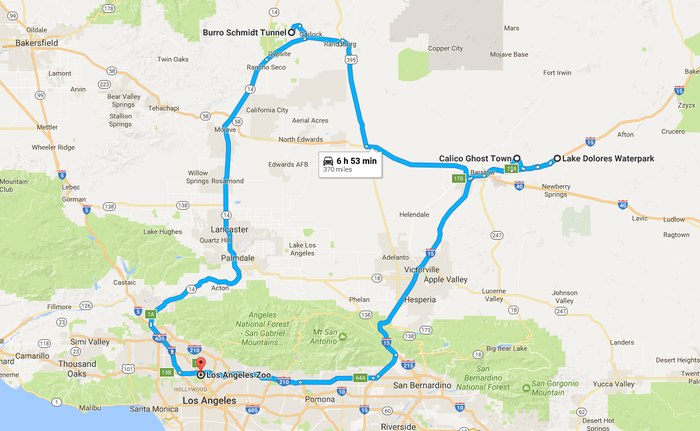 Driving to see these four abandoned places in Southern California will be quite a full day. Plan on between seven to eight hours, plus traffic, to hit them all. Make sure to grab some snacks, pack your phone charger, and fill up a bottle of water to prepare for a fabulous SoCal journey.
If you're fascinated by the idea of a road trip, you might want to head out on this fairytale adventure that will take you to all of the beautiful castles sprinkled around SoCal. It's another fun day out on the road!
Address: 4801 Griffith Park Dr, Los Angeles, CA 90027
Address: Burro Schmidt Tunnel Rd, California, USA
Address: 36600 Ghost Town Rd, Yermo, CA 92398, USA
Address: Newberry Springs, CA 92365, USA
Abandoned Places In Southern California
March 24, 2021
Are there any ghost towns in Southern California?
Many ghost towns reside in SoCal, and some are in the most unexpected places. When we think of California, it's usually white sandy beaches by the ocean that come to mind, right? Well, Bombay Beach was a former town sitting at the second-lowest point in the country at 282 feet below sea level and nowhere near the sea. It was a resort community at the Salton Sea, a large lake, for a while until bad luck struck and most people fled, leaving much of the town abandoned. There are several other fascinating ghost towns in a previous post, Visit These 8 Creepy Ghost Towns In Southern California At Your Own Risk.
What are the most haunted places in Southern California?
Whether you are looking for a haunted restaurant, road, hotel, mansion, or bridge, Southern California has you covered for a potential ghostly encounter. In fact, we have put together a handy Definitive Guide To All Things Haunted And Creepy In Southern California that you can reference and use to plan your next paranormal adventure.
What Southern California road trips can I take?
If scenery is what you are looking for, take a road trip to several natural wonders of Southern California. This trip can be done over the course of two-to-three days and will take you from Zabriskie Point in Death Valley to the Channel Islands National Park. For less time-consuming road trips that you can take for a few hours in one day, try one of our 10 Quick Road Trips In Southern California You Can Take This Weekend. Visit the Ventura Harbor Village for a lovely day of shopping and scenic views, travel along the De Portola Wine Trail to do some wine tasting, or head to The Huntington Library to see art and the botanical gardens.
Address: 4801 Griffith Park Dr, Los Angeles, CA 90027
Address: Burro Schmidt Tunnel Rd, California, USA
Address: 36600 Ghost Town Rd, Yermo, CA 92398, USA
Address: Newberry Springs, CA 92365, USA