9 Amazing Places You Can Go On One Tank Of Gas In South Carolina
Road trips are a fun way to spend the weekend or even a full day. South Carolina is just the perfect size to make it across the state on the average tank of gas. With no extended sightseeing stops it's also very possible to make it all the way from the mountains to the sea in just one day, an excursion that ranks among the best road trips in South Carolina.
We've put together 9 notable and amazing places you can go on one tank of gas in South Carolina. Are you ready for a road trip? Here's the link to the Google Map that provides all the navigational information. The trip is just over seven hours. There are roughly 13-14 hours of daylight during this time of year. If you plan wisely, then it's possible you may be able to get to all of these in one day. Ready? Let's go!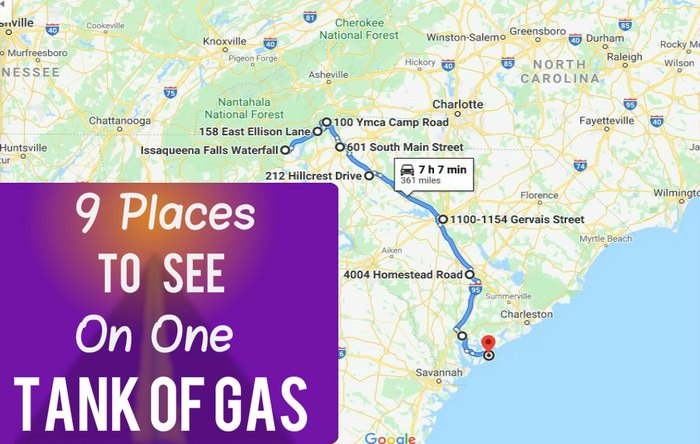 Whether you plan a whole weekend or you think you can make it in one day, these places are among the very best road trips in South Carolina. So what are you waiting for? Share this article with someone you'd like to go with you.
Comments are always welcome below or on Facebook and be sure to let us know what you think are the best road trips in South Carolina.
Can't get enough of the Palmetto State? We don't blame you — there's so much to see and do in this pretty place. The best way to get to know South Carolina is to explore it like a local.
Address: Issaqueena Falls, South Carolina 29691, USA
Address: Table Rock, South Carolina 29671, USA
Address: 100 YMCA Camp Rd, Cleveland, SC 29635, USA
Address: Falls Park Dr, Greenville, SC 29601, USA
Address: 212 Hillcrest Dr, Laurens, SC 29360, USA
Address: South Carolina State House, 1100 Gervais St, Columbia, SC 29208, USA
Address: 4004 Homestead Rd, Bowman, SC 29018, USA
Address: Old Sheldon Church Road, Old Sheldon Church Rd, Yemassee, SC, USA
Address: Hunting Island State Park Beach, South Carolina, USA
Best Road Trips In South Carolina
March 15, 2020
Are there any food-related road trips in South Carolina?
The Southeastern Coast of the United States is coveted for its beaches and pleasant, balmy weather. Tourists can't get enough of the area, and South Carolina has become a favored vacation destination for tourists from all around the world. What visitors often do not realize, however, is that the touristy eateries are often just coveted by tourists. Locals have their own preferred dining destinations, and the best way to experience a day in South Carolina is to spend it like a local. You can explore cozy country restaurants on a road trip, or you can embark on the local taco trail. Wherever you go, just remember to bring your appetite!
What are the best day trips in South Carolina?
The Palmetto State is an incredible destination for a long, relaxing vacation or a super speedy day trip (although you need at least a weekend trip if you're an out-of-towner looking to get a taste of local culture). If you're a local hoping to take a staycation, you will find that there is much to do… particularly if you are a fan of the great outdoors. You can take a nature-themed road trip, or you can effortlessly spend a day at the beach. You can embark upon a lighthouse road trip down the coast, or you can explore the spookiest places with infamous histories. There's much to see and oodles of things to do in South Carolina!
What are the most popular attractions in South Carolina?
After you've explored some of the best one tank trips in South Carolina, you just might find yourself wondering what more there is to do. Many people come to our state for our beaches, but there's so much more to the local landscape than just beaches. If you want to explore the area like a local, simply ask us for a few suggestions. We're a friendly bunch, and we're happy to point you in the direction of the best local attractions!  
Address: Issaqueena Falls, South Carolina 29691, USA
Address: Table Rock, South Carolina 29671, USA
Address: 100 YMCA Camp Rd, Cleveland, SC 29635, USA
Address: Falls Park Dr, Greenville, SC 29601, USA
Address: 212 Hillcrest Dr, Laurens, SC 29360, USA
Address: South Carolina State House, 1100 Gervais St, Columbia, SC 29208, USA
Address: 4004 Homestead Rd, Bowman, SC 29018, USA
Address: Old Sheldon Church Road, Old Sheldon Church Rd, Yemassee, SC, USA
Address: Hunting Island State Park Beach, South Carolina, USA