Ferguson, An Underwater Ghost Town In South Carolina, Peaks Above The Water In Lake Marion
The history of South Carolina's man-made lakes include accounts of entire towns that were moved to make way for the new lakes. In a few cases at least parts of some towns were flooded with buildings having not been moved at all. Such is the case with the state's largest lake. You may be surprised to learn there's a fascinating underwater ghost town in South Carolina in Lake Marion and part of it can be seen above the waterline.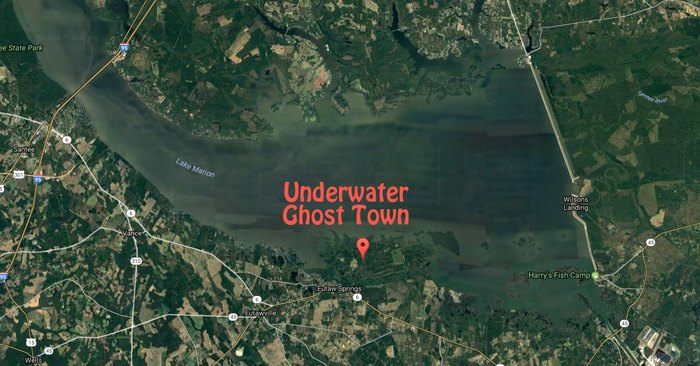 Did you know about this underwater ghost town that juts above the water line on Lake Marion? What about other ghost towns? We'd love to hear about either in our comments!
Learn more about Lake Marion in South Carolina's "inland sea," in this article we published previously.
In 2008 during the drought, Times and Democrat columnist Dr. John Rheney of Orangeburg walked on foot from Ferguson Landing to the skeletal remains of Ferguson. The drought exposed the town making it possible to see all. Read about his excursion to the ghost town of Ferguson in this online article from The Times and Democrat.
OnlyInYourState may earn compensation through affiliate links in this article.
Address: Ferguson Landing, SC 29048, USA
Underwater Ghost Town In South Carolina
November 20, 2020
Can I visit any abandoned places in South Carolina?
Lake Marion in South Carolina is not the only place with an abandoned spot. You can find spots being reclaimed by nature all over the state, some that you can see for yourself up close. The Donnalley Wildlife Management Area, located in Colleton County, South Carolina, has an abandoned farmhouse that's haunting to behold. It was built in the 1800s and abandoned in the 1930s as a result of the depression. A well-known spot of ruins in the Palmetto State is also Castle Pinckney. What was once a Civil War fort, then a national park, now just an abandoned spot is quite fascinating both to look at and to learn about.
What are the most beautiful lakes in South Carolina?
You may not find notoriously mysterious places in South Carolina under all of these lakes, but they're great to visit regardless. Whether you're spending the day out fishing, swimming, boating, or just strolling along the shore, here are a few beautiful lakes in the state. Lake Keowee is the definition of picturesque. Distant mountains make up the backdrop of the lake, giving it spectacular views. Lake Hartwell is a popular destination for boaters and fishers. It's also great for hikers and bikers that want to view the lake from the trails. Another well-known recreational retreat in South Carolina is the huge Lake Jocassee, perfect for just about any lake-related activity.
Are there any ghost towns in South Carolina?
Check out some of the spookiest, yet fascinating abandoned places in South Carolina when you visit these ghost towns. We've put together an easy-to-follow road trip to visit them all. The route will take you to places like Pinckneyville, which was envisioned to be "Little Charleston" back when it was platted. Now, it's just piles of rubble and a stone marker in the forest. It'll also visit even earlier places like Colonial Dorchester, built as a trading post in the late 1600s, that now remain as just ruins. They are all fascinating in their own ways, and some quite eerie to visit.