An Amish Country Bakery In South Carolina, Hershberger's Makes Cinnamon Rolls That Are As Big As Your Head
Over in southwestern Oconee County, near where Interstate 85 crosses Lake Hartwell into Georgia, the residents of Fair Play (population: 687) have grown accustomed to eliminating a few calories from their evening meal – and with good reason. The sweet breakfast delights found all day (Wednesday through Saturday) at this neighborhood Amish bakery in South Carolina are irresistible temptations most can't live without.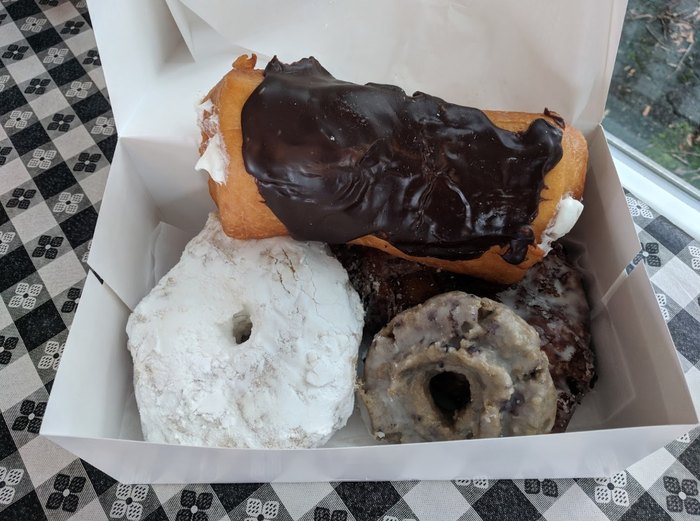 Plan ahead when heading to this Amish bakery. Hershberger's Bakery is only open Wednesday through Saturday. The hours are Wednesday – Friday from 7 a.m. to 3 p.m. and Saturday from 7 a.m. to 2 p.m. Learn more from their official Facebook page right over here.
Address: 1011 SC-59, Fair Play, SC, 29643
For more reasons to visit this little corner of the state, take a peek at this nearby campground on Lake Hartwell. You can rent the entire campground for less than you might think!
OnlyInYourState may earn compensation through affiliate links in this article.
Address: 1011 SC-59, Fair Play, SC 29643, USA
Amish Bakery In South Carolina
August 28, 2020
Where are the best bakeries in South Carolina?
The best cinnamon rolls in South Carolina are hard to get since they aren't always available. Luckily, there are other bakeries in the state ready to serve up other amazing treats. SweetLeighs Cakes and Treats, located in Florence, South Carolina, will satisfy even the strongest sweet tooth. Their delicious creations are hard to resist. Grab one of their mason jar cakes for an easy-to-eat and totally scrumptious treat. Another sweet-filled bakery is The Sweetery in Anderson, South Carolina. From pies to cakes and plenty of other treats big and small, they have amazing food.
What is the oldest bakery in South Carolina?
There's nothing quite like a local bakery in South Carolina that's been around for a while. That way, you know they must be doing something right to keep the business coming back all of these years. If you want to visit a truly old bakery in the state, check out the Olde Colony Bakery in Charleston. They've been family-owned and operated since the 1940s and they offer old recipes of Lowcountry favorites and much more. Their Benne Wafers are a must-try, and they have tons of other cookies that'll remind you of the good old days.
Where can I find the best baked goods in South Carolina?
Beyond bakeries, there are other unsuspecting places serving the best baked goods in South Carolina. For a tasty slice of homemade pie, stop by the Carolina Cider Company in Yemassee, South Carolina. Their pecan pie has been named the best of the best, and there are plenty of other flavors available there. In Greenville, you'll find great baked goods at Strossner's Bakery, Cafe & Deli. They have cakes, cupcakes, cookies, and some of the best pies ever. Locals absolutely love their food, and if you visit it prepare to be a bit overwhelmed by the long line of cases full of pastry goodness.
OnlyInYourState may earn compensation through affiliate links in this article.
Address: 1011 SC-59, Fair Play, SC 29643, USA