Dine While Overlooking Waterfalls At Glass Wine Bar Kitchen In Pennsylvania
Typically, we have to hike to a quiet corner of a park or a nature center to admire the simple beauty of a waterfall. Although the trek is always worth it, sometimes we just want to sit, relax, and enjoy without embarking on a hike. This waterfall restaurant in Pennsylvania allows us to enjoy one of nature's most beautiful creations as we dine on a scrumptious meal. Check out Glass – Wine. Bar. Kitchen in Hawley and prepare to be amazed.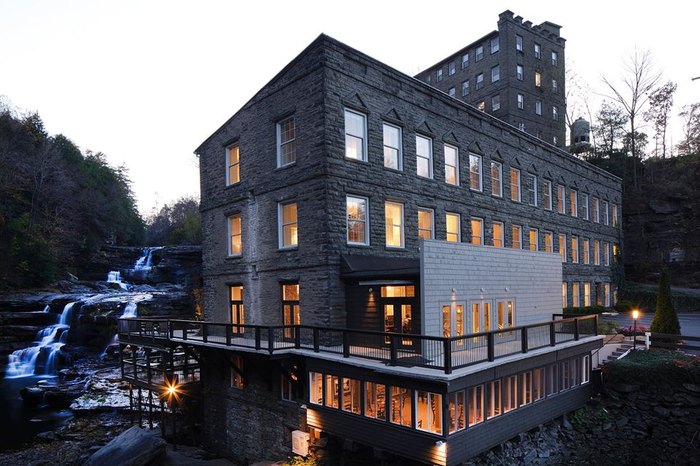 Have you been to this waterfall restaurant in Pennsylvania? If so, we want to hear all about your experience at Glass! Share your thoughts with us in the comments below. And if you know another gorgeous place to eat, nominate it for a chance to be featured. We always love checking out stunning restaurants!
Can you think of a better pairing than wine and waterfalls? Hit the road on this Pennsylvania wine and waterfalls road trip.
OnlyInYourState may earn compensation through affiliate links in this article.
Address: glass – wine. bar. kitchen, 119 Falls Ave, Hawley, PA 18428, USA
Waterfall Restaurant In Pennsylvania
August 10, 2020
What are the most beautiful restaurants in Pennsylvania?
Everyone knows that the most important part of any eatery is the delicious food, but sometimes you want something extra special. When this is the case, check out some of these othr beautiful restaurants in Pennsylvania:
If you're planning a romantic outing, pay a visit to Char's Restaurant at Tracy Mansion. Some say it's the most beautiful restaurant in Pennsylvania!
Or, visit Washington Crossing Inn. This picturesque eatery sits inside an 1800s home. You'll love marveling at the historical charm and stunning atmosphere.
Are there any waterfall restaurants in Pennsylvania?
Yes! That's the short answer when questioning other waterfall restaurants in Pennsylvania. Pennsylvania is also home to Stoney Creek Inn. A bit about this restaurant to entice you to visit:
This astonishing waterfall restaurant in Pennsylvania will take your breath away.
Relax on their scenic patio and raise a glass to the good life.
Bring your friends and devour delicious appetizers like steamed clams and stuffed grape leaves.
Their shrimp scampi dinner is always a crowd-pleaser.
What are the most romantic restaurants in Pennsylvania?
If you're planning a special date night, we know just where you should go: The Log Cabin Restaurant. Just a few reasons why this is one of the most romantic restaurants in Pennsylvania:
Seating options include their cozy dining room
Or dine outside on their vibrant patio, you'll adore the gorgeous atmosphere
Pair your delicious dinner with a wonderful glass of wine. This restaurant has an impressive selection.