Take A Day Trip To The Best Wine And Waterfalls In Pennsylvania
Waterfalls just might be nature's most perfect creation. And what goes better with waterfalls than sipping wine? Maybe nothing, right? Carve out a day when you can embark on this wine and waterfalls day trip in Pennsylvania that will leave you feeling inspired and relaxed.
Click here for the directions for this day trip on Google Maps.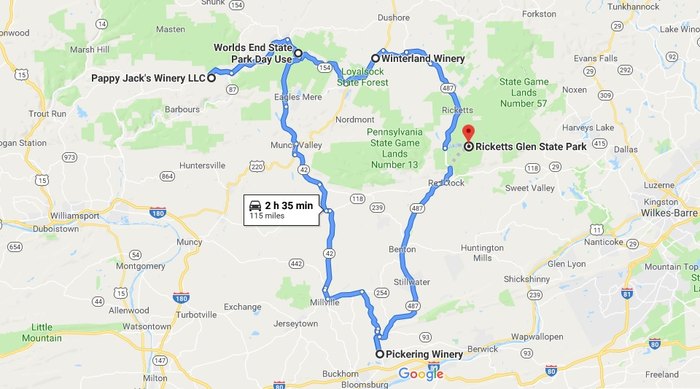 Will you embark on this wine and waterfalls day trip in Pennsylvania? What's your favorite day trip in Pennsylvania? Let us know in the comments! And, if you love a scenic hike that includes waterfalls, embark on one or more of these 10 waterfalls hikes in Pennsylvania.
Address: Ricketts Glen State Park, 695 PA-487, Benton, PA 17814, USA
Address: 8028 US-220, Dushore, PA 18614, USA
Address: Worlds End State Park, 82 Cabin Bridge Rd, Forksville, PA 18616, USA
Address: 109 Old Sullivan Rd, Hillsgrove, PA 18619, USA
Address: 1537 PA-487, Orangeville, PA 17859, USA
Wine And Waterfalls Day Trip In Pennsylvania
April 07, 2020
Are there any other wineries in Pennsylvania worth visiting?
If you're a wine connoisseur, you'll discover some of the best wineries in Pennsylvania. Feel a million miles away when you stop by Galen Glen Vineyard & Winery in Andreas. Sprawled across 20 gorgeous acres, the vineyard and winery makes a variety of wines, including white, red, and dessert wines. You can also have a tasting of five different wines, including the special ice wine.
Up for visiting several wineries in a single day?  Join a winery tour with Flagship Trolley in Erie. Let the trolley driver do the driving, so you can enjoy tastings at one of between four and five local wineries.
Where else can I find the most beautiful waterfalls in Pennsylvania?
You'll find so many beautiful waterfalls in Pennsylvania that you'll want to visit them all. Start with the tallest waterfall in Pennsylvania. The trail to Raymondskill Falls, which drops a spectacular 150 feet, is less than a mile. You'll have to climb some stairs along the trail. Other than that, however, the trail is considered easy and is definitely bucket list-worthy.
If you've ever wanted to walk behind a waterfall, plan a visit to Cucumber Falls at Ohiopyle State Park. You can view the majestic waterfall from above, just steps from the parking lot. Or, you can climb down the stairs for several different views. You can even walk behind the 30-foot waterfall.
What are the most unique and best day trips in Pennsylvania?
On the hunt for some old-fashioned summer fun? Pack up the whole family for a day at Knoebels Amusement Park in Elysburg. It is, in fact, the largest admission-free amusement park in the United States today. You can buy a pass, if you want, for a day of riding. Or, you can opt for tickets, like the good old days. If you're having so much fun you don't want the day to end, you can check into the onsite campground.
Address: Ricketts Glen State Park, 695 PA-487, Benton, PA 17814, USA
Address: 8028 US-220, Dushore, PA 18614, USA
Address: Worlds End State Park, 82 Cabin Bridge Rd, Forksville, PA 18616, USA
Address: 109 Old Sullivan Rd, Hillsgrove, PA 18619, USA
Address: 1537 PA-487, Orangeville, PA 17859, USA