These 8 Haunted Cemeteries In Pennsylvania Are Not For the Faint of Heart
Pennsylvania's rich history has, unsurprisingly, given way to legends of spirits that haunt its buildings, streets, and, of course, cemeteries. These eight haunted cemeteries in Pennsylvania all have one thing in common. Those who have visited often leave with a ghostly tale of a close encounter with a spirit, an orb, or a strange feeling that just can't be explained.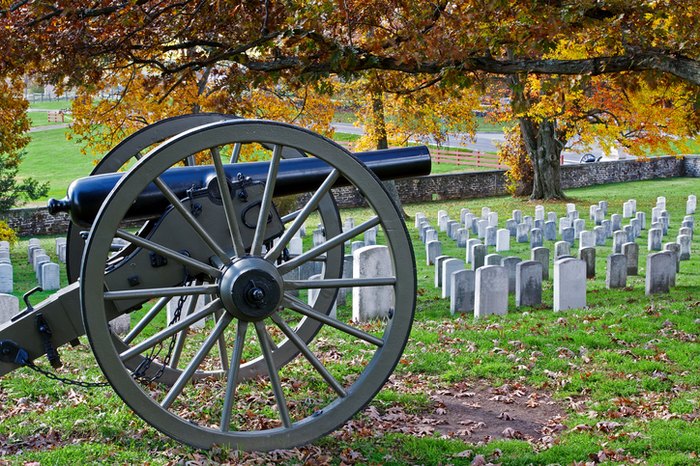 2. Lancaster Cemetery, Lancaster

Augusta Bitner's death came way too soon. Just how she died remains somewhat murky. Some say she passed away the night before her wedding, while others claim she died during childbirth. Whatever the story, Augusta's final resting place is in Lancaster Cemetery. Visitors, who have dared explore the cemetery after the sun goes down, claim to have seen a woman, donning a long and flowing dress, strolling through the cemetery during the night hours. That woman is said to be Augusta Bitner.
3. Erie Cemetery, Erie

Wander through Erie Cemetery, if you dare of course, but be aware of what others before you have experienced. Visitors tell tales of having strolled through the cemetery with the feeling that someone was following them or standing just behind them. They turned around and – no one was there. Satanic rituals were also said to have taken place at the cemetery. Watch the video above for the creepy tales that have become urban legends.
5. Haag Cemetery, Bernville

Buried within Haag Cemetery lies a former Civil War soldier, George D. Fahrenbach, who apparently has a spirit admirer. Some surmise it is the spirit of his wife seen next to his grave while others simply don't know the identity of the woman. Keep an eye out for the apparition of this mysterious woman near the soldier's grave.
6. Coulterville Cemetery, McKeesport

Listen for the harrowing cries of children when you enter and leave Coulterville Cemetery. Many years ago – some say a century – an orphanage stood where the cemetery now lies. One day that orphanage went up in flames, killing all of the orphans inside. Today, visitors to the cemetery hear the frightened cries of children and, when driving away, look in the rearview mirror to see flames behind them. Legend has it that visitors who stop their car just outside of the cemetery will see the handprints of small children on their windows.
7. Strasburg Cemetery, Strasburg

If local lure proves true, the ghost of Annie Gonder sure gets around. She's known to haunt the Gonder Mansion, from which she was banished by her brother, bellowing a burst of laughter that only men can hear. She's also been seen around her family's graves – of which she is buried nearby. Some have talked of seeing the apparition of an old woman near the grave while others claim to see a strange mist or white light near the tombstone, all apparently Annie Gonder.
8. Hans Graf Cemetery, Marietta

Since his death in the late 1700s, Hans Graf has rested at the cemetery with his family's name. Hans Graf Cemetery is said to be haunted by a white wolf who howls each time a visitor enters the cemetery and continues howling until that person leaves. The local dogs join the white wolf in barking and howling. But, beware when you visit the cemetery, because you may not leave. Legend states that if you visit when there's a full moon and circle the cemetery seven times, you will meet your death.
Do you dare visit any of these haunted cemeteries in Pennsylvania? Have you heard any of these ghost stories before? Let us know in the comments! And, if you love to be spooked, you might want to try one of these nine haunted restaurants in Pennsylvania.
OnlyInYourState may earn compensation through affiliate links in this article.
More to Explore
haunted cemeteries in Pennsylvania
Where can I find paranormal activity in Pennsylvania?
In addition to the most haunted cemeteries in Pennsylvania that we listed above, there are many other destinations around the state that are spooky, creepy, and downright terrifying. For example, located in Spring City is the Pennhurst State School and Hospital. This was once an asylum for the mentally ill and there are all types of horrifying stories about the days when it was open. Today, it is believed to be one of the most haunted places in Pennsylvania and is haunted by the spirits of former patients.
If you are searching for haunted hotels in Pennsylvania, check out the Logan Inn. This spot looks darling from the outside, but it is known for its paranormal activity. There are reports of a female spirit making appearances throughout the inn. Some individuals claim they have seen her in the restaurant and the bathroom. However, most reports claim to see her in the mirror in Room 6.
Are there small towns with paranormal activity in Pennsylvania?
Yes! While, Gettysburg is known as one of the most haunted cities in the entire country, the small town of Easton, Pennsylvania is also known for its long list of haunted stories and paranormal reports. In fact, there are several locations around this small town where paranormal activity seems to occur: The State Theater, Getter's Island, and Hexenkopf Rock.
Related Articles
Explore Pennsylvania