Driving Down This Haunted Pennsylvania Road Will Give You Nightmares
If you've ever seen M. Night Shyamalan's film The Village, you're already familiar with the area around Cossart Road. It is so infused with legend that he chose to film the movie in a nearby field. Even if you were unaware of the ghostly history of this haunted road in Pennsylvania, you would suspect an ominous presence due to the trees, which dramatically lean away from the road.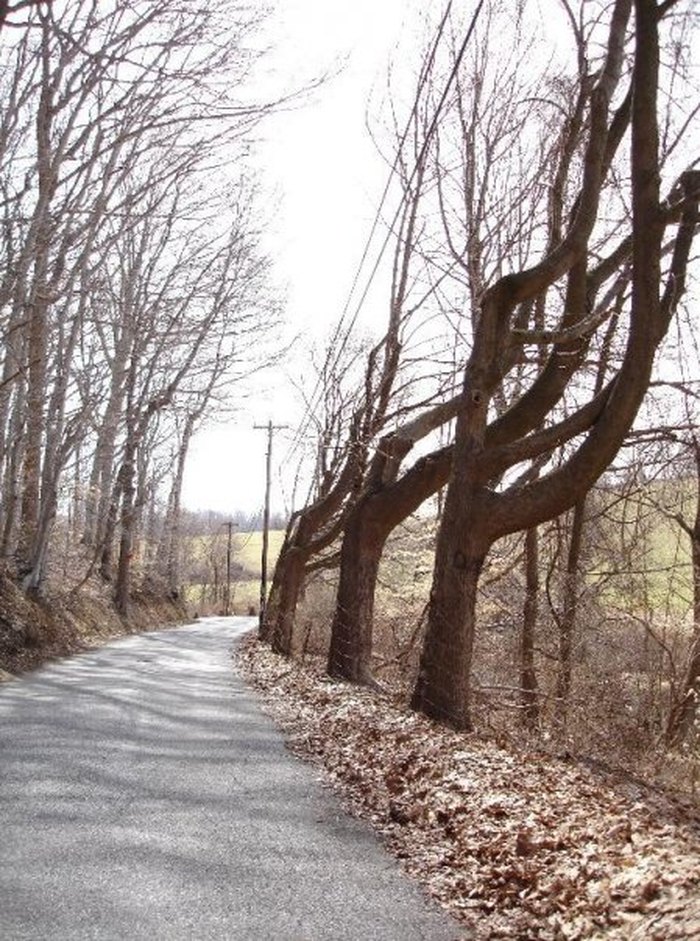 Watch this video to learn more about Cossart Road and its legendary status.

Have you traveled along this haunted road in Pennsylvania, or do you know anyone who has? Do you believe it's really haunted? Share your stories in the comments. Then take a peek at some more of the haunted places in Pennsylvania.
If you decide to walk rather than drive down Devil's Road in Pennsylvania, slip on a pair of sturdy hiking shoes.
OnlyInYourState may earn compensation through affiliate links in this article. As an Amazon Associate, we earn from qualifying purchases.
More to Explore
Haunted Roads In Pennsylvania
Are there any other haunted roads in Pennsylvania?
Cossart Road isn't the only haunted road in Pennsylvania. We've actually got quite a few. The question is: Are you brave enough to drive down them?
Next time you're in the Western Pennsylvania suburb of Irwin, make your way to Irwin Road – better known as Blue Mist Road. The road is positively enchanting during the daytime, flanked by towering trees. Once the sun goes down? Well, that's another story. There are several haunted tales about this hallowed road, including:
Considered one of the most haunted roads in the United States, Blue Mist Road is said to have been the site of murders and lynchings by the KKK. The souls of those murdered still wander down the road.

Another tale is that of a mother and her children. All were butchered by her husband and their father. Then he buried them in a septic tank. Each night after the sun has gone down, they take a stroll up and down the road.
Now if you're really brave, stop your car in the middle of Blue Mist Road in the dead of night. (Just make sure there is no other traffic around for safety reasons.) Honk your horn three times. Some say if you do that, all of the restless souls to wander along Blue Mist Road will come out. You may also see orbs.

You'll need a hefty dose of courage if you decide to travel down Dark Hollow Road in Bucks County at night. If you believe the tales, a cruel teacher died in the school along the road many years ago. However, his remains weren't found until more than a century after his death. That is likely why he roams Dark Hollow Road at night, following those who dare to walk the path. You might also encounter odd lights that flicker and don't seem to be coming from anywhere in particular.
Related Articles
Explore Pennsylvania
Featured Addresses

Cossart Road, Cossart Rd, Pennsbury Township, PA 19317, USA