An Abandoned Former WWII Factory Is Hiding In Pennsylvania, And It's Fascinating
Have you ever been driving along a road and, maybe just out of the corner of your eye, you noticed an old building or series of buildings, decayed and pretty much forgotten? Have you ever wondered about the stories behind those old buildings? Some offer fascinating tales, providing a glimpse into history – like the Keystone Ordnance Works, an abandoned World War II factory in Pennsylvania. Let's take a closer look at one of the most intriguing abandoned places in Pennsylvania.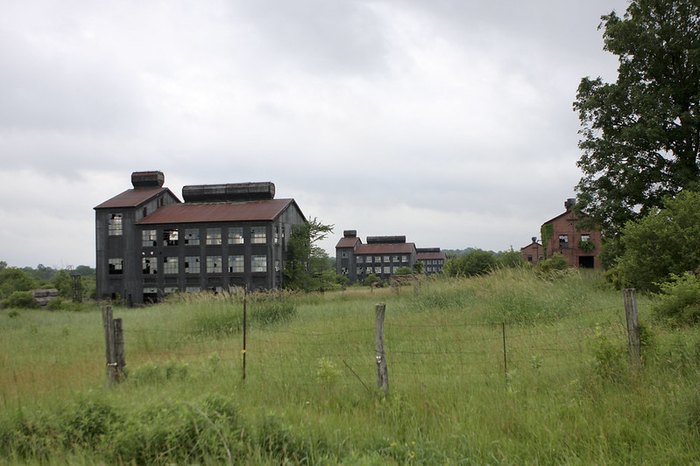 Did you know about the now-abandoned Keystone Ordnance Works in Pennsylvania? Have you ever seen it? If so, what do you think? We'd love to read about your experience in the comments section!
If you're a history buff, you'll also want to take a peek at these 11 photos taken in Pennsylvania during World War II. If you like places like this, taking a road trip to these abandoned places in Pennsylvania would be w fun adventure!
For more insights into World War II and the effect it had on this country, watch this video:
OnlyInYourState may earn compensation through affiliate links in this article. As an Amazon Associate, we earn from qualifying purchases.
More to Explore
Exploring Pennsylvania History
Where can we learn more about Pennsylvania's history?
Places where we can learn more about Pennsylvania's history include:
The Raven Rock Mountain Complex – Located near Blue Ridge Summit, the complex—which is also known as "Site R"—was designed to serve as a second Pentagon should there be a nuclear attack on the United States. This was during the Cold War
The Meadowcroft Rockshelter – Located near Avella in Washington County, this is the site of what is believed to be the oldest known evidence of humanity in the Americas. The artifacts date back at least 16,000 years.
Ole Bull State Park – Located in Cross Fork, the land was originally plated in the hopes of creating a Norwegian settlement for the many Norwegians who had come to the area at that time. Unfortunately, that idea only lasted a year, but the park is a beautiful remnant.
Read on to learn more about Pennsylvania's history.
Where are there other ruins in Pennsylvania?
Other ruins in Pennsylvania include:
The Lausanne Ruins – Located in Carbon County, there is a beautiful hike to get to the ruins. The trail is believed to be a former 1700s and 1800s stagecoach route.
Dead Man's Hollow – Located in McKeesport, these ruins are that of a century-old industrial factory. The site is found deep in the woods and there are approximately six miles of trails that go by this and two other enchanting sites.
Village of Yellow Springs – Located in Clarks Valley, this was formerly a coal mining village that was abandoned long ago. You can get there via the aptly named Yellow Springs Loop Trail.
Read on to learn more about the numerous ruins in Pennsylvania.
What are some of the most historic restaurants in Pennsylvania?
Some of the most historic restaurants in Pennsylvania include:
McGillin's Olde Ale House – Located in Philadelphia, it is now the state's oldest continuously operating tavern.
Hublersburg Inn - Located in Howard, it is a truly enchanting remote Bed & Breakfast Inn and restaurant serving up some of the best food in the region.
Bube's Brewery, Dining, and Entertainment - Located in Mount Joy, this establishment dating back to 1876 offers themed murder mystery dinners, fine dining underground in The Catacombs, and ghost tours.
Read on to learn more about historic restaurants in Pennsylvania.
Related Articles
Explore Pennsylvania
Featured Addresses