9 Unbelievable Ohio Waterfalls Hiding In Plain Sight... No Hiking Required
You don't always have to hike off the beaten path to find a beautiful waterfall in Ohio. From urban waterfalls you pass along the sidewalk to metropark waterfalls you can drive to, to hidden gems only locals know about, here are nine beautiful waterfalls hiding in plain sight in Ohio. Peruse the list and how close these glorious cascades in Ohio just might be to you: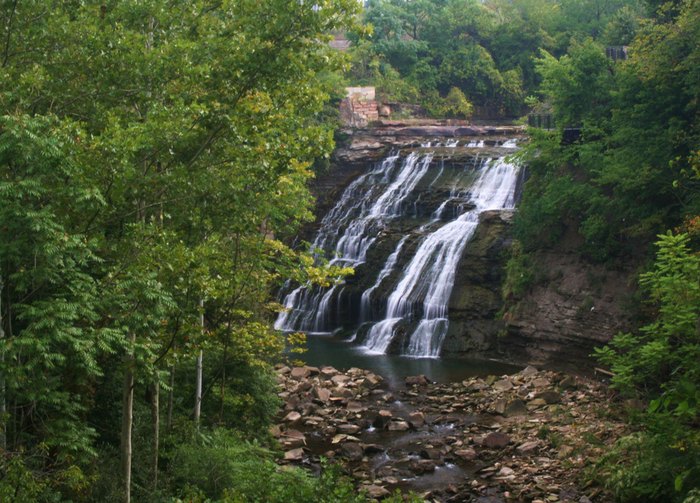 Did you know about all of these waterfalls in Ohio? If you're interested in chasing more Buckeye State waterfalls, check out our Ultimate Ohio Waterfalls Road Trip and these breathtaking Ohio waterfalls.
OnlyInYourState may earn compensation through affiliate links in this article. As an Amazon Associate, we earn from qualifying purchases.
More to Explore
Waterfalls Near Me In Ohio
What's the tallest waterfall in Ohio?
The tallest waterfall in Ohio is in the northern part of the state, tucked away in Ohio's very own national park. Cuyahoga Valley National Park in northeast Ohio is home to a breathtaking 65-foot waterfall that flows from Brandywine Creek. Known as Brandywine Falls, these easily accessible and beautiful falls are a popular highlight within the park. Ohio explorers and nature lovers alike will appreciate the majestic beauty of these glorious cascades. This is definitely one for your Buckeye State bucket list!
How can I find out more about waterfalls near me in Ohio?
If you're curious to learn more about the state's myriad waterfalls, you've come to the right place! Here at Only In Ohio, we are unabashed waterfall chasers, and have penned many an article to prove it! If you're looking for an epic adventure, we've compiled a roadmap of some of our favorites in the eastern half of the state for you so you can make a weekend road trip out of waterfall chasing. We compiled a list of 15 jaw-dropping falls in this article; they're located all across the state, and each and every one of them merits a visit! Finally, our ultimate waterfall bucket list has some of the best waterfall vistas, hikes, and adventures in the Buckeye State.
What are some fun waterfall day trips in Ohio?
Waterfalls and wine... what a wonderful combination! Aside from the alliteration, we can think of no better way than to spend a day than drinking wine and chasing waterfalls. Whether you live in Cincinnati, Cleveland, or anywhere in between, you'll discover an epic day trip that features both a winery and a waterfall – only on a tankful, of course. (This trip also answers the above "How can I find out more about waterfalls near me in Ohio?" quandary, too!) These two-for-one adventures make for really fun and memorable day trips in Ohio!
Related Articles
Explore Ohio
Featured Addresses

Mill Creek Falls, Mill Creek Trail, Cleveland, OH 44105, USA

Brandywine Falls, Sagamore Hills Township, OH 44067, USA

Chagrin Falls, OH 44022, USA

Hayden Falls Park, 4326 Hayden Run Rd, Dublin, OH 43017, USA

Lanterman's Mill, 1001 Canfield Rd, Youngstown, OH 44511, USA

Paine Falls Park, 5570 Paine Rd, Painesville, OH 44077, USA

Historic Clifton Mill, 75 Water St, Clifton, OH 45316, USA

West Falls Trail, W Falls Trail, Elyria, OH 44035, USA