You Will Fall In Love With These 20 Beautiful Covered Bridges In Ohio
From the famous Y-bridge in Zanesville to the Bic Mac bridge in Cincinnati, Ohio is known for some pretty unique bridges. What really sets Ohio's bridges apart from most states, however, are our countryside-covered bridges. There are some 135 covered bridges in Ohio, with half of the Buckeye State's counties having at least one covered bridge. Cool, right? The following list of covered bridges in Ohio shows you just how unique Ohio is, especially when you are cruising through the countryside: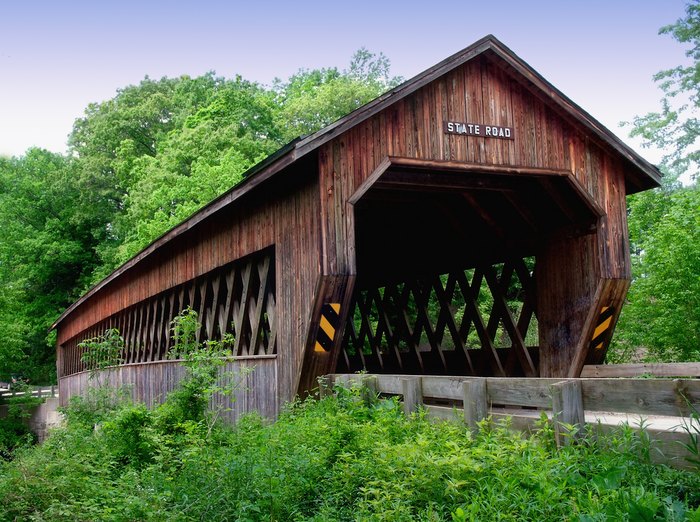 Which of these covered bridges in Ohio is your favorite? Is there a bridge you'd like to see featured on Only In Ohio? Nominate it and tell us what makes it so special! And we love seeing pics of your favorite covered bridges, so be sure to share your photos and experiences with us in the comments below! For even more adventures, gas up the car and take this covered bridge road trip which will take you to even more of Ohio's beautiful covered bridges!
OnlyInYourState may earn compensation through affiliate links in this article.
covered bridges in Ohio
November 07, 2021
What are some of the oldest covered bridges in Ohio?
Covered bridges are such interesting structures. There's a sort of simplicity about them, and they're honestly marvels of engineering in their own right. The cover on these bridges prolongs their lifespan to five times that of an uncovered bridge! While dates can be a bit hazy with these historic old structures, here is what we do know: the Newton Falls Covered Bridge is considered to be the second oldest in the state, eclipsed only by one in Eaton built in 1829. The Eaton bridge, the Roberts Covered Bridge, is just barely older than its competitor in Newton Falls. The really interesting thing about the Eaton bridge is that it has been moved from its original location, and though it is still spanning the same creek, it is now in a public park. Read more about these historic structures here.
What's the most beautiful covered bridge in Ohio?
Beauty is in the eye of the beholder, but we can all agree that all of the above covered bridges in Ohio are absolutely breathtaking! For more beautiful covered bridges in Ohio, be sure to hop over to this list of 17 charming covered bridges... talk about a beauty overload!
What are some scenic day trips in Ohio?
The Buckeye State is such a lovely place to explore, and we adore sharing our favorite scenic spots with all of you! For some scenic day trips in Ohio, you're sure to love, check out this list of 14 amazing places to visit in the Buckeye State, including the picturesque Put-in-Bay, Ohio's very own island! Of course, if you can't get enough beautiful bridges, this scenic adventure will take you to some of the state's most stunning bridges -- all in one day!