18 Best Hikes In Ohio: The Top-Rated Hiking Trails To Visit In 2023
Ohio offers a range of top-rated hiking trails perfect for nature lovers and adventure seekers alike. From scenic waterfalls and lush forests to stunning overlooks and serene lakes, these 18 best hikes in Ohio promise fun hiking trips for all skill levels. Whether you prefer leisurely strolls or more challenging treks, the state's landscapes and trails allow you to connect with nature and discover hidden gems throughout the region. Lace up your hiking boots and get ready to embark on the best hikes in Ohio.
Best Hikes in Ohio
Set out on a quest with the best hikes in Ohio: Cuyahoga Valley Ledges Trail, Brandywine Gorge Trail, and Old Man's Cave and Naturalist Cabin Loop. Witness the great outdoors as you encounter magnificent ledges, enchanting waterfalls, and captivating rock formations.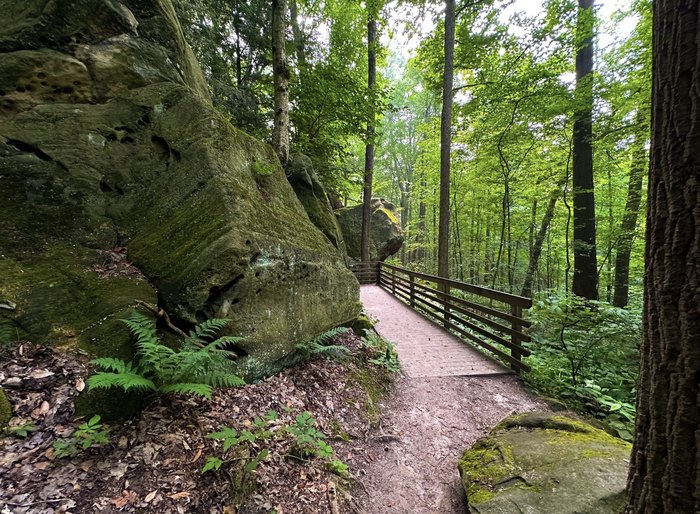 Best Short & Easy Hikes in Ohio
Ohio's best short and easy hikes include Broken Rock Falls Loop, Conkle's Hollow Gorge Trail, and Horseshoe Falls. These trails offer waterfalls, gorges, and picturesque landscapes, perfect for a quick and enjoyable outdoor adventure. Whether you're a beginner hiker or simply looking for a relaxing escape, these trails promise just that.
Hardest Hikes in Ohio
Take on the challenge of the hardest hikes in Ohio with Shawnee State Park North Loop, Zaleski North Loop Trail, and Lake Vesuvius Backpack Trail. These rugged and demanding trails offer adventurous hikers stellar scenery, diverse landscapes, and a true backcountry experience. Test your limits as you navigate through challenging terrain and steep inclines, rewarded with the unmatched beauty of Ohio's outdoors.
Best Waterfront Hikes in Ohio
Did you know that Ohio has some of the best hiking trails by the water? You have to check out the Covered Bridge and Lyons Falls via Pleasant Hill and Lyons Falls Loop, Sharon Woods Lake Trail to Gorge Trail Loop, and Whispering Cave – Cedar Falls Loop. Whether you're a pro or just want to take it easy, there's something for everyone on these trails.
Best Winter Hikes in Ohio
Ohio has some amazing winter hiking trails, including the Holler Collar and Doanville School Trail, Sampson Trail, and Chapin Forest Trail. Each of these hikes offers unique views and challenges, making them perfect for those looking to get outside and explore during the colder months.
Best Hikes Near Columbus
Columbus offers some great hiking options, especially if you're looking for a quick getaway from the city. The Blendon Woods Loop, Hayden Run Falls, and Scioto Trail North Bank are all fantastic options for those seeking a little adventure.
Have you taken any of these hiking trails in the state of Ohio? Think they are some of the best hiking trails in Ohio? Which do you think are the best places for hiking in Ohio? Let us know – we'd love to hear from you!
Whether you're looking for a challenging hike or a day hike, our Ohio Hiking series below covers everything you'll need; and be sure to Try AllTrails+ For Free!
OnlyInYourState may earn compensation through affiliate links in this article. As an Amazon Associate, we earn from qualifying purchases.
More to Explore
The Best Hikes In Ohio
Does Ohio have good hiking trails?
Ohio's best hiking trails include:
Buckeye Trail
Ash Cave
Barrett's Rim Trail
John L. Rich and North Rim Trail Loop in Clifton Gorge State Nature
Cantwell Cliffs Loop
The Ledges Trail and Pine Grove Trail Loop
Jacobs Ladder and Christmas Rocks Trail
Ohio Erie Canal Towpath: Clinton to Canal Fulton
Wayne National Forest Scenic River Loop
Cincinnati Nature Center Loop
Olsen State Nature Preserve Loop
Twin Creek Metro Park Yellow Trail via Northern Trailhead
Blackhand Trail and Quarry Rim Trail Loop
Rock House
What are the best months to hike in Ohio?
While Ohio is a nature lover's paradise year-round, winter offers a special appeal to outdoor sports enthusiasts. From skiing and snowboarding to snowshoeing, ice skating, and even ice fishing, there are abundant opportunities to embrace the winter wonderland and partake in activities amid Ohio's natural beauty.
Related Articles
Explore Ohio
Featured Addresses