The Sinister Story Behind This Popular New Mexico Scout Camp Will Give You Chills
You'll find no shortage of haunted places in New Mexico, especially around Cimmaron, in northeast New Mexico. Cimmaron is primarily known for its connection to the Wild (and bawdy) West, and also its numerous ghosts. You'll hear stories of them taunting guests at the St. James Hotel in Cimarron, possibly the most haunted hotel in New Mexico. More than 20 people met a violent "old Western" end at the hotel, so it makes sense that some spirits might be lurking. While the St. James Hotel has a sinister past, it's the picturesque Urraca Mesa at Philmont Scout Ranch, just outside of Cimarron, that might win the award for creepiest place in New Mexico. Don't let the ethereal beauty of this mesa fool you. Despite its scenic vistas and awe-inspiring beauty, there are plenty of horror stories about Urraca Mesa in New Mexico. This place has a history that's much deeper and darker than it lets on.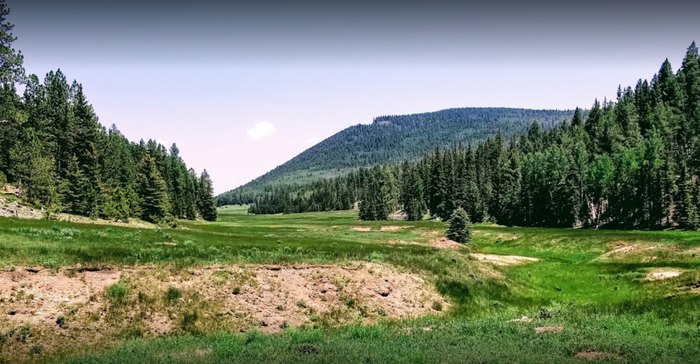 Urraca Mesa is privately owned by the Philmont Scout Ranch, so it's not open for public hiking. Unless you're a Boy Scout or a guest, you're out of luck for exploring this haunted trail in New Mexico – but that might not be a bad thing.
Any Philmont alumni out there? Did you experience anything out of the norm on the mesa? Which Anasazi Camp horror stories freak you out the most? We'd love to hear from you.
OnlyInYourState may earn compensation through affiliate links in this article. As an Amazon Associate, we earn from qualifying purchases.
More to Explore
Anasazi Camp Horror Stories
Where is the Urraca mesa?  
Tucked away in Colfax County, way up in northern New Mexico, is the Urraca mesa. Once upon a time (and even to this day), it was a sacred place for Native American people and it's well-known for its strange and almost supernatural occurrences that are said to happen to folks who happen to visit. Its name comes from the Spanish word for magpie, according to Native American legends. Interestingly, this mesa is the one place in New Mexico that is struck by lightning with the most frequency, adding to its mysterious and legendary quality.  
What's the story behind the Urraca mesa skull?  
Well, there isn't really a story behind it, per se; when observed in certain ways and at certain angles, the Urraca mesa strangely resembles a human skull (which only FURTHER solidifies the legends and spooky myths). When seen from above in a plane or on a topographical map, the resemblance is quite eerie. Is it a coincidence that this place is thought to be one of the most active, paranormally speaking, in the state? Probably, but still ... it's fun (and a little spooky) to think about. It's one of our favorite urban legends in New Mexico for sure.  
Where is the scariest place in New Mexico?  
New Mexico is definitely not without its eerie history, ghost towns, haunted hotels, and other spooky goings-on. New Mexico is one of those states that's proud of its strangeness and we've put together lists in the past of things like the most haunted road trip in New Mexico and other fun stuff. So, what takes the cake as the scariest place in New Mexico? Maybe it's Roswell, where an alien spacecraft supposedly crashed in the 1950s. Or perhaps it's one of our eerie old western cemeteries, like the infamous Dawson Cemetery, in Cimarron, where literally every single miner who worked in the nearby mines is buried (and all were killed in work-related accidents). Yikes.  
Related Articles
Explore New Mexico
Featured Addresses

Philmont Scout Ranch, New Mexico 87714, USA