Venture Out On A Terrifying Southern New Mexico Road Trip That May Haunt Your Dreams
New Mexico has a lengthy, turbulent history, which means that it's full of abandoned buildings, ghost towns, and even ghosts. If you're seeking some thrills, enjoy being scared, or just want a getaway that's far from ordinary, check out this creepy road trip that'll take you to some of the most haunted places in New Mexico.
The loop covers much of southern New Mexico and takes just 14 hours and 16 minutes to drive (not including stops). You can find great hotels, yummy restaurants, and places to gas up in many of the towns and cities on this trip, including Las Cruces, Alamogordo, Ruidoso, Truth or Consequences, Silver City, and Deming. We've included a link to the Google Map for this road trip right here.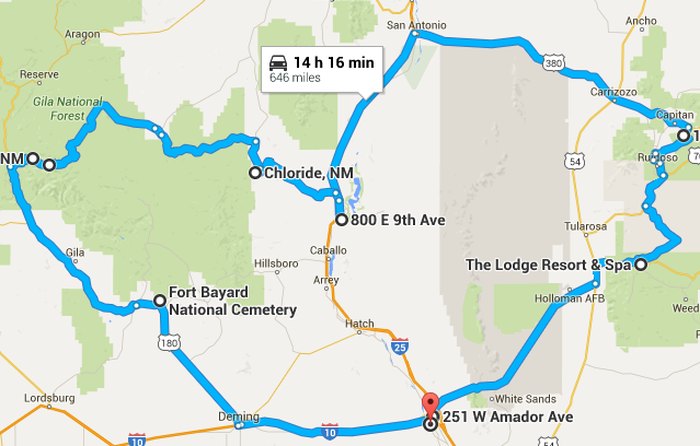 Have you been to any of these haunted places in New Mexico? Are you gutsy enough to take this creepy road trip? Here are some ghost towns in New Mexico for more chilling places and stories.
Address: 351 N. Mesilla Street, Las Cruces, 88001
Address: 104 Kit Carson Rd, Fort Stanton, NM 88323
Address: 800 E. 9th Avenue, Truth Or Consequences, NM 87901
Address: 200 Camino De Paz, Fort Bayard, NM 88036
Address: 2355 Calle de Guadalupe, Las Cruces 88005
Address: 251 W Amador Ave, Las Cruces, NM 88005, USA
Address: 601 Corona Pl, Cloudcroft, NM 88317, USA
Address: Chloride, NM 87943, USA
Address: Mogollon, NM 88039, USA
Haunted Places In New Mexico
May 02, 2020
What are the creepiest cemeteries in New Mexico?
When it comes to creepy places in New Mexico, there are some cemeteries that definitely deserve a spot on the list. The Dawson Cemetery in the abandoned town of Dawson, located near Cimarron, is supposedly one of the most haunted places in the state. The old cemetery – which is supposedly a hot spot for the paranormal – is the resting place for hundreds of miners that were killed in mine explosions in the early 1900s. Fort Stanton is another place with a supposedly haunted cemetery. The old fort's graveyard has a lot of graves occupied by sailors that died of tuberculosis when it operated as a tuberculosis hospital for the Merchant Marines.
What is the most haunted place in New Mexico?
If you're taking a haunted road trip through New Mexico and want to hit a spot with the most ghost activity, try this one. According to some, the most haunted place in New Mexico is the St. James Hotel in Cimarron. It still operates as a hotel today, and if you dare stay in it, you might experience some paranormal activity. The hotel has been around for well over a century and has had guests as notorious as Billy the Kid and Jesse James. A lot of violence and murder were seen within the walls of the old building, including at least 26 deaths, and there are even bullet holes in some of the walls still. One of the rooms has been padlocked shut and closed permanently because there is an allegedly ghostly guest who never leaves. Spooky!
What are the most popular ghost stories in New Mexico?
Up to hearing some New Mexico ghost stories? We have a few that might make you keep the lights on at night. The KiMo Theatre in Albuquerque is a spot with a grisly tale. In the year 1951, a young boy named Bobby was tragically killed when a boiler exploded. According to legend, Bobby's ghost still haunts the theatre, especially the lobby. The declining town of Madrid, New Mexico is also supposedly home to lingering spirits. The town has a long history of mining, and many people claim to spot ghosts hanging around the forest around the town, in the cemetery, or even walking down the main streets.
Address: 351 N. Mesilla Street, Las Cruces, 88001
Address: 104 Kit Carson Rd, Fort Stanton, NM 88323
Address: 800 E. 9th Avenue, Truth Or Consequences, NM 87901
Address: 200 Camino De Paz, Fort Bayard, NM 88036
Address: 2355 Calle de Guadalupe, Las Cruces 88005
Address: 251 W Amador Ave, Las Cruces, NM 88005, USA
Address: 601 Corona Pl, Cloudcroft, NM 88317, USA
Address: Chloride, NM 87943, USA
Address: Mogollon, NM 88039, USA