Lambertville Is The Best Small Town In New Jersey For A Weekend Escape
It's amazing how one of New Jersey's tiniest towns can be one of the best destinations for a weekend getaway. The historic town of Lambertville – which dates back to the 1700s and was originally established as a ferry town – is the best place for a short two-day getaway in the Garden State. Fewer than 4,000 people call Lambertville their home, but thousands visit and experience the quiet life in a small river town every year. If you're looking for a great weekend getaway in New Jersey, Lambertville is it! Below, you'll find a detailed Lambertville travel guide with our suggestions for ways to make the most of your visit to this river town. Even if you're only able to take a day trip to Lambertville, you'll find plenty of ideas about how to spend your time below.

From the Hawaiian Island of Oahu to the coast of Massachusetts and everywhere in between, come along with OnlyInYourState as we introduce you to the best Small Town Getaways you can take this year. From nature lovers and foodies to history buffs and shopaholics, there's something for everyone within these unforgettable, two-day itineraries curated by our local travel experts just for you.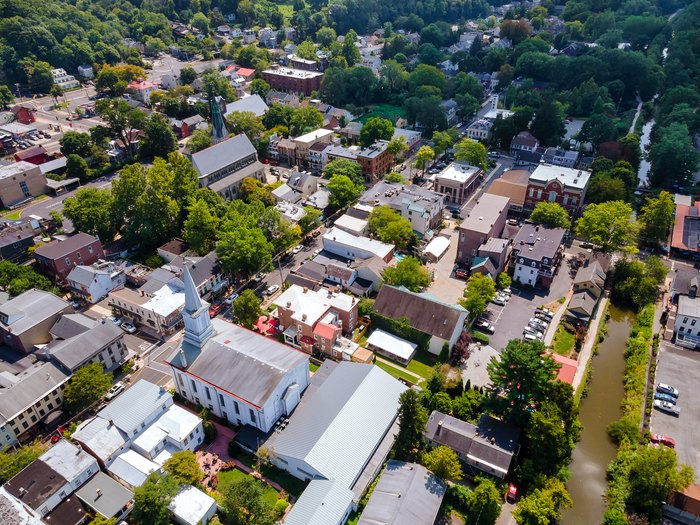 There are so many reasons to fall in love with Lambertville, and it's clear to see why it earned the honor of being New Jersey's top small town getaway destination. What's your favorite shop on Bridge Street? Have you visited any of the restaurants or boutiques above? If you can't get enough New Jersey day trip ideas, you'll want to subscribe to the Only In New Jersey newsletter and get fresh ideas every week.
Not Your Average Bucket List Podcast
Only In Your State's podcast Not Your Average Bucket List takes a deep dive into Lambertville, New Jersey, and everything it has to offer. Our hosts, Marisa Roman and Sara Heddleston, discuss what their "Perfect Day" in Lambertville would consist of. Take a look at the infographic below to get your own suggestions for the perfect day exploring this small town.
To discover even more about Lambertville, New Jersey, in a fun, easily-digestible manner, tune in to OnlyInYourState's brand new podcast, Not Your Average Bucket List, where we talk all about this charming town. Listen now on Spotify and Apple Podcasts.
OnlyInYourState may earn compensation through affiliate links in this article.
Address: Lambertville, NJ 08530, USA