Here Are 12 Nevada Swimming Holes That Will Make Your Summer Epic
Nevada is not only the hot spring capital of the world, but we're also home to some pretty epic swimming holes. These Nevada swimming holes flow in the form of whitewater parks, spring-fed pools, creeks, and scenic reservoirs.
If you're looking for a fun way to spend a summer day with family or friends, consider taking a dip in any of these Nevada swimming holes. Some may require a road trip or a hike. Others are located in your neighborhood. All are a refreshing way to cool off from the heat of summer.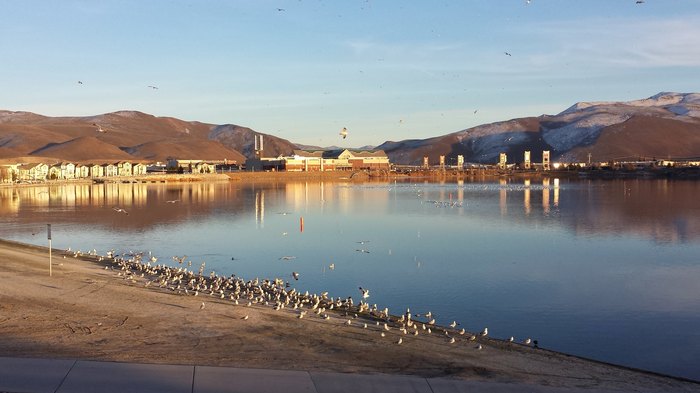 If you enjoyed reading about these Nevada swimming holes, you might also like There's No Better Place To Be Than These 9 Hot Springs In Nevada.
OnlyInYourState may earn compensation through affiliate links in this article.
Nevada Swimming Holes
July 18, 2022
What are some beautiful swimming lakes in Nevada?
Nevada is home to some of the most gorgeous lakes in the country. Jet skiing, water skiing, boating, and fishing are just a few of the fun activities you can enjoy in Nevada's many lakes. Now that summer is upon us, here are 10 of the best lakes in Nevada you should definitely check out. Among those on the list, we're partial, of course, to Lake Tahoe. Lake Tahoe is the largest freshwater lake in the Sierra Nevada of the United States, and it was formed approximately 2 million years ago. In Tahoe, just one visit to the lake's Sand Harbor Beach will have you seeing why this is one of the most popular swimming spots in the state. Sand Harbor's secluded Diver's Cove Bay offers shade from the sun and, as the name suggests, it's perfect for diving, too. Lake Tahoe is a beautiful paradise in the Silver State that we never tire of visiting!
Another marvelous swimming lake in Nevada that's truly a hidden gem is Stella Lake. The jaw-dropping Wheeler Peak looms over the lake, and the landscape really couldn't be more tremendous. This lake, along with Teresa Lake, are both accessible via the three-mile-long Alpine Lakes Trail, one of the many stunning hiking trails situated within Great Basin National Park. Both lakes are considered alpine lakes, meaning they were created by water left behind by retreating glaciers. During the winter, the water is frozen over, and it maintains a chilly temperature during the summer. Both lakes are estimated to be only about 20 feet deep, making them perfect for those willing to take the plunge on a hot summer's day!