We Dare You To Take This Road Trip To Nevada's Most Abandoned Places
With more than 600 ghost towns in Nevada, you could spend a lifetime trying to see them all, and that's not even including all of the abandoned places in Nevada that aren't even a former town – just an abandoned place! Whether you're a fan of history, mystery, or maybe a little of both, this Nevada road trip takes you to some of the eeriest abandoned places in the state. At 449 miles, the drive time is just under eight hours: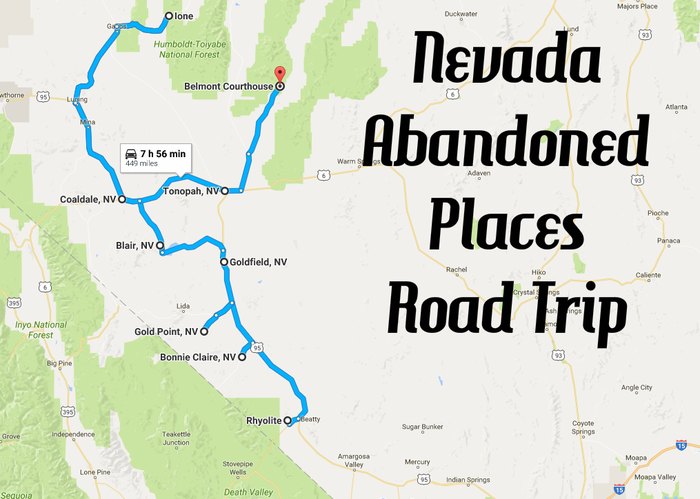 That concludes your road trip touring many abandoned places near me in Nevada. This road trip can also be approached from the north and there are several options for altering your route as well as plenty of places to spend the night along the way. If you're thinking about taking this road trip in Nevada, let us know in the comments below. For more haunted adventures, check out this haunted prison in Nevada. You may also want to visit some Nevada ghost towns!
Make sure before you take this road trip, you are prepared! Check out our ultimate road trip packing list, as well as our list of the best road trip snacks!
OnlyInYourState may earn compensation through affiliate links in this article. As an Amazon Associate, we earn from qualifying purchases.
More to Explore
Abandoned Places In Nevada
What are the creepiest places in Nevada?
There are a lot of creepy places in Nevada, separate from the ghost towns that are usually the first thing you think of. If you don't like clowns, then stay away from the Clown Motel in Tonopah. But if you want to have a little spirit with your spirits, head over to the Pioneer Saloon in Goodsprings. The saloon is one of the oldest operating businesses in Nevada and it's rumored to be haunted by several different spirits including the ghost of Clark Gable's wife, Carole Lombard. 
Can I visit any abandoned places in Nevada?
With over 600 ghost towns in Nevada, you're unfortunately never too far away from an abandoned place in Nevada. The Nevada ghost town of Delamar is one of the many towns you can visit, just be warned that this particular ghost town has a sad backstory. Delamar's was known for having a high death rate, so much so that the town was nicknamed, "The Widowmaker." The town struggled to survive with so many men dying in the mine, but the real kicker was a fire that swept through the town, destroying almost everything. 
What are the creepiest cemeteries in Nevada?
Most cemeteries come with a little creepy factor, but few can compare to the haunted cemeteries in Nevada like the Goldfield Cemetery or the Bullfrog-Rhyolite Cemetery. For a genuinely creepy cemetery that also may be haunted, visit the El Dorado Valley Pet Cemetery. The only thing more creepy than a human cemetery is a pet cemetery, and you might have a ghostly encounter here that might be of the four-legged variety. 
Related Articles