The Tiny Town In Montana With A Terribly Creepy Past
Nothing overtly tragic has ever occurred in the tiny community of Saint Marie, Montana (sometimes spelled St. Marie). But if you've ever passed through this abandoned town in Montana, you've got to admit: the area is totally creepy. Perhaps it's because of its current abandoned status, or maybe it's because of the recent attempted takeover by an anti-government group. For whatever reason, there's something eerie about Saint Marie, Montana.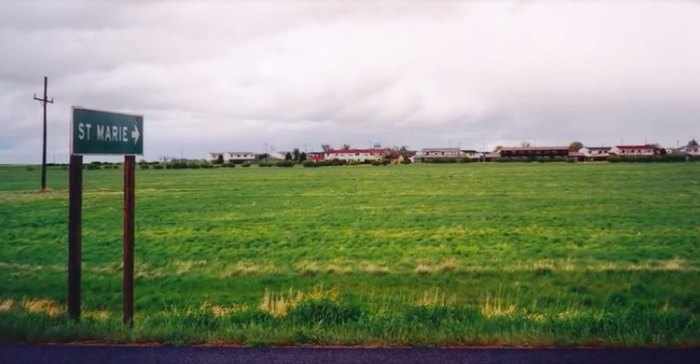 Saint Marie, Montana can be tricky to find unless you're familiar with the Glasgow Air Force Base area.
Luckily, David Eggebraaten shared some great footage of the town on YouTube:
Have you ever taken a walk through the tiny town of Saint Marie, Montana? If so, did it give you an eerie feeling? Let us know in the comments.
OnlyInYourState may earn compensation through affiliate links in this article.
More to Explore
Montana Ghost Towns
What ghost town in Montana is one of the best preserved?
Montana is made up of many ghost towns, including the town of Bannack. What makes Bannack truly special is the fact that it's the best-preserved ghost town in Montana. Here are some facts about Bannack:
Bannack was the site of Montana's first major gold discovery, which happened in 1862 on Grasshopper Creek.
Today, Bannack only has a population of around 12, which is far less than it had during its gold rush days.
It was eventually turned into Bannack State Park in 1954.
While in Bannack, you'll get to experience the Old West.
What place do many people consider to be the creepiest town in Montana?
There are many towns in Montana that give off an eerie, creepy vibe, including Virginia City. Many people consider Virginia City to be the creepiest town in Montana and for good reason. Several visitors to Virginia City have reported lots of paranormal activity. So much so that Virginia City is known as Montana's liveliest ghost town. Founded in the 1860s, Virginia City was once a thriving Montana town. However, following the gold rush days, the town's population decreased. It was soon a ghost town. In the 1940s, Virginia City was purchased and buildings were soon renovated. Visitors of Virginia City to this day still have paranormal experiences. For example, a black-robed figure can usually be seen walking the streets. A bearded man wearing a Civil War uniform is also often spotted.
Related Articles
Explore Montana
Featured Addresses

Saint Marie, St Marie, MT, USA