Here Are 8 Swimming Holes Near Minneapolis-Saint Paul To Visit Before Summer Ends
Minnesota summers always feel much too short, especially since the winters in Minnesota are so long and harsh. No matter where you live, one of the most beloved ways to enjoy warm summer days is to splash in the water. While you may be quick to consider hopping in the pool come summer, we have also rounded up some of the best secret swimming holes near Minneapolis-Saint Paul.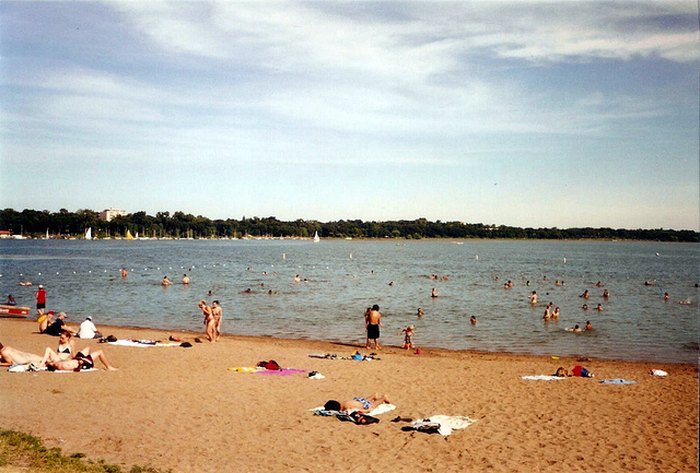 When we are in the dog days of summer, it's hard to think that Minnesota winter will be upon us again before we know it. Soak up the sun and hit the water when you can! What are some of your favorite swimming holes near Minneapolis? Let us know in the comments section!
Do you love our lakes? Check out this article on 9 Gorgeous Lakes To Visit Around Minneapolis-Saint Paul in Summer.
OnlyInYourState may earn compensation through affiliate links in this article. As an Amazon Associate, we earn from qualifying purchases.
More to Explore
Best Swimming Places in Minneapolis-Saint Paul
What are the best swimming holes near Minneapolis-Saint Paul?  
Minnesota is quite literally known as the "Land of 10,000 Lakes", but that's a bit misleading: there are actually more than 10,000 lakes in our little state, but we digress. Some of those swimming holes near Minneapolis-Saint Paul are worth a dip sooner than later. Among our favorite swimming holes in Minnesota, some of these in the Minneapolis area are by far the best, including:
There's Quarry Park, just outside the city in Waite Park. It's a 112-foot-deep quarry and it's filled with more than just cool water: it's also one of the most interesting, scenic places within an hour of the city, and we adore it.
Another excellent place to go swimming near Minneapolis-Saint Paul is the legendary Lake Nokomis, whose beaches are pristine and water temperatures are always perfect. Who says you need to be near an ocean for a beach day?

 
Where can we swim near Minneapolis-Saint Paul?  
As we alluded to in the paragraph above, there are many amazing places to swim near Minneapolis-Saint Paul. We're partial to some of the specifically branded swimming beaches in Minnesota, many of which happen to be quite close to the Twin Cities. The next time you're looking for places to swim, consider the following:
Head to Maple Grove and do the Elm Creek Swimming Beach, an amazing swim pond within the Elm Creek Park Reserve.

We also love heading out to some of the beautiful lakes near Minneapolis-Saint Paul for more swimming, like Lake Phalen and Lake Nokomis, both of which come equipped with wonderful swimming beaches.

 
What are the best swimming places near Minneapolis-Saint Paul?  
The list definitely goes on, and the places mentioned here and above are nowhere near the only ones! Other amazing swimming places near Minneapolis-Saint Paul include:
Cedar Lake Beach, in Minneapolis, where you can take your pick from three gorgeous beaches, sink your toes in the sand, and forget about life for a while.

Another few favorite lakes in Minnesota perfect for swimming are gems like Cedar Lake, which has a very popular swim beach by the name of Hidden Beach to check out. Okay, it's not overly hidden, or even a secret, but we absolutely love it and feel we can't go without mentioning it!

 
Related Articles