The Ultimate Pizza Pilgrimage Through Michigan Makes For One Delicious Adventure
It's tough to find someone who doesn't enjoy pizza. After all, nothing compares to the experience of digging into a perfectly prepared crust topped with delightfully gooey cheese, tasty sauce, and plenty of mouthwatering toppings. Whether you prefer thin crust, Detroit-style, deep dish, or something in between, the Great Lakes State has plenty of pizza options to offer. When you're ready to experience some of the area's best, follow our unforgettable (and delectable) pizza pilgrimage through the Great Lakes State, which highlights eight of the best pizzerias in Michigan.
If you'd like to modify your adventure, check out this adjustable map of our road trip route.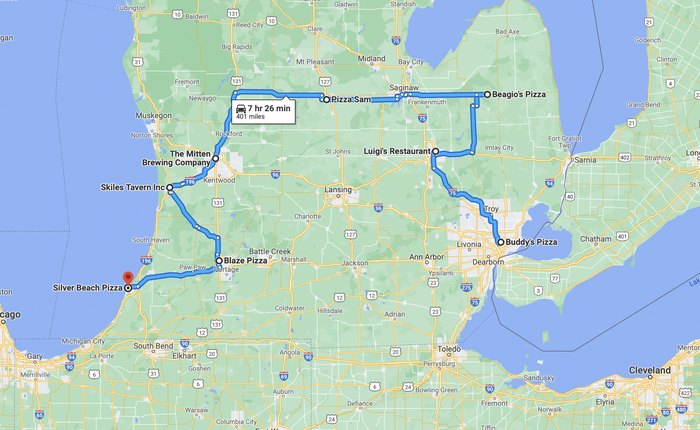 Have you been lucky enough to visit any of the spots featured on our pizza pilgrimage through Michigan? Do you have a favorite pizza flavor from among the options described? We love to hear from you, so share your thoughts with us by leaving a Facebook comment. Or, if you'd like to recommend another top-notch pizzeria in Michigan, fill out our official nomination form.
Is all this talk of food making you hungry? If so, be sure to read about this awesome BBQ restaurant in Michigan.
OnlyInYourState may earn compensation through affiliate links in this article.
More to Explore
Best Pizza in Michigan
What are the best pizzerias in Michigan?
Chicago and New York may be known for pizza, but we all know Michigan's pizza roots run deep. Did you know that some of the world's largest pizza chains began right here in Michigan? Hungry Howies, Little Caesars, and even Domino's all originated right here in the Mitten State.
As such, here in Michigan, it isn't simply a question of the best pizzerias; but rather, the best of the best of each kind of pizzerias in Michigan. Because we have it all in the Great Lakes State: Detroit-style pizza, tavern-style pizza, wood-fired pizza, Neapolitan pizza, Chicago-style pizza... you get the point! So here are some contenders for the best of the best, though pretty much EVERY pizza restaurant in Michigan is worth checking out. You know, in the interest of science and all:
Buddy's. We said it before but it bears repeating. Detroit-style pizza is one of the most iconic foods in Michigan, and Buddy's does it right. Similar to Sicilian-style pies, Detroit-style pizza is known for its square shape, thick crust, and crispy bottom. You'll find the world's best version at Buddy's Pizza. With Detroit-style, it's all about the pans... and the order of operations. The toppings are applied opposite of what you expect on pizza: first goes the pepperoni, followed by the cheese and other toppings. Buddy's offers its pizza in two sizes: four square and eight square. Four is enough for two people, or one really hungry person. Everyone fights for the corner pieces because they are crispy, cheesy, buttery perfection!
Mallie's Sports Grill. Do you have a hunger bigger than the world? Head to Mallie's. Known for their laughably large portions, the best advice we could give you when you walk into this restaurant is to come hungry. (Mallie's actually holds the world record for the biggest burger, and it's on the menu! You can chow down on a colossal 1,800-pound burger if you'd like, just know that the big burger comes with a big price tag: $10,000!!) Back to pizza: from traditional meat lovers to the always-divisive Hawaiian pizza, these are some of the biggest and best pizzas in Michigan. While you can certainly go with the classics, the Dill Pickle Pizza from Mallie's has to be the most dill-lightful 'za ever.

Best Choice Pizza of Kawkawlin. 

Speaking of big appetites, if you long for the days of the Pizza Hut all-you-can-eat buffet, check out Best Choice Pizza of Kawkawlin. While you might not associate small-town Michigan with fantastic pizza, you'll think again when you visit Best Choice Pizza. After all, this unassuming eatery offers a delightful dining experience for all. This is anything but an ordinary pizzeria. After all, Best Choice offers an all-you-can-eat pizza buffet that promises to satisfy your every craving, no matter how you choose to enjoy your hot, cheesy slices. It's a nostalgic throwback that will take you back to your childhood... and wishing you had the metabolism of a 10-year-old, so be sure and wear stretchy pants! Worth it, though.
Related Articles
Explore Michigan