The Most Delicious Michigan Road Trip Takes You To 8 Hole-In-The-Wall Coney Restaurants
If there's one thing we know to be true about Michiganders, it's that we love our coney dogs. After all, this regional classic simply tastes like home, whether we're frequent coney consumers or occasional indulgers. While coney dogs are most often associated with Metro Detroit, we're happy to inform you that there are coney restaurants scattered across the entire state – and this fun road trip will take you to seven of the best coney island restaurants in Michigan.
Please note: For the sake of time, we've limited this road trip to eateries in the Lower Peninsula, though we know there are countless gems in the Upper Peninsula! Here's an interactive map of the route to the best coney restaurants in Michigan.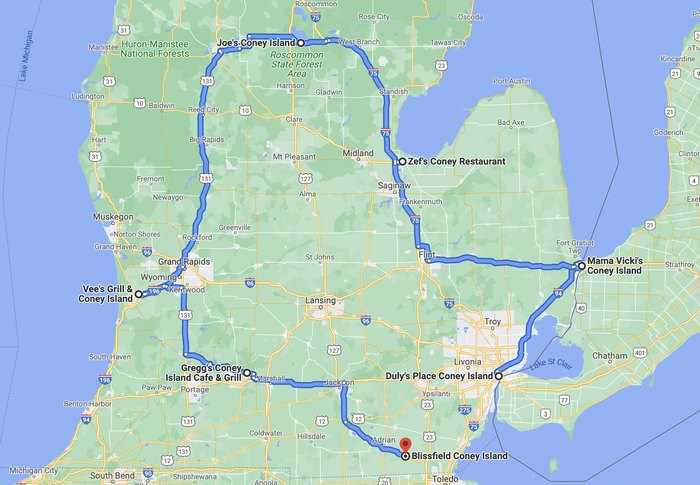 So, there you have it: a road trip that covers some of the best coney island restaurants in Michigan. Have you been lucky enough to enjoy a bite from one of these lovely hole-in-the-wall restaurants in Michigan during previous dining adventures in the Great Lakes State? Share your favorites with us by leaving a Facebook comment or recommend another top-of-the-line coney spot by filling out our nomination form.
Is your stomach still growling after reading about all these tasty spots? You'll want to learn about some of our favorite bucket list-worthy restaurants in Michigan, one for every month of the year.
OnlyInYourState may earn compensation through affiliate links in this article.
Exploring The Culinary Diversity Of Michigan
February 07, 2023
What are the most unique restaurants in Michigan?
The most unique restaurants in Michigan include:
The Antlers. Located in Sault Ste. Marie, this place isn't for everyone, but if you want to be surrounded by taxidermy while tucking into a steak, here you go.

Trattoria Stella. This is located in what once was a psychiatric hospital but the farm-to-table cuisine is to die for.

Chartreuse Kitchen. The whimsical decor boasts a lot of the namesake hue and the food is made using ingredients from local farms.

Pal's Diner. This is like time-traveling back to the 1950s inside a chrome and pink diner serving up classic dishes from decades past.
Find out more about the most unique restaurants in Michigan.
What are some bucket list restaurants in Michigan?
Bucket list restaurants in Michigan include:
Zingerman's Deli in Ann Arbor. If you want a juicy Reuben and some delicious deli goods to take home, you need to visit this place.

Slows Bar-B-Q. This restaurant gets playful with its barbecue and throws a gourmet twist on classic dishes.

Sleder's. This is an iconic restaurant in Traverse City that was built in 1882 and is the oldest operating restaurant in Michigan.

Al-Ameer Restaurant. With two locations, this is where to go for scrumptious Mediterranean food that used locally farmed produce.
Learn more about these and other bucket list restaurants in Michigan. 
What are the most iconic restaurants in Michigan?
The most iconic restaurants in Michigan include:
Food Dance in Kalamazoo. This restaurant has delicious homestyle food and offers cooking classes to learn how to cook what you ate.

Golden Harvest in Lansing. This restaurant is covered inside and out with fun, kitschy decorations and serves up yummy comfort food.

The Curragh in Holland. This is the state's tribute to Irish food with cottage pies and full Irish breakfasts. Don't forget a well-poured pint of Guinness.

Seabiscuit Cafe in Mackinac Island. This restaurant has horse-themed decor and a laid-back, vintage ambiance in a building that's been around since the 1800s.
Discover more about the most iconic restaurants in Michigan.