Explore Michigan's Best Waterfalls And Wineries On This Multi-Day Road Trip
Here in Michigan, we take our road trips pretty seriously. The Wolverine State offers so much in the way of natural beauty, local businesses, and midwestern charm that it seems only fitting to hop in the car and explore every square mile. If you're up for what promises to be an unforgettable adventure, we've put together a road trip that will take you to some of the most beautiful waterfalls and best wineries in Michigan.
The itinerary is over 700 miles of pure Michigan beauty, but don't worry — we've pinpointed some great places to stay along the way so you can safely pace yourself and make the most of your adventure. Just be sure to get an early start, as the first leg of our trip will take you to no fewer than four gorgeous Upper Peninsula waterfalls before you'll check into your room at a conveniently-located Best Western property in Michigan. Ready to get started on this unforgettable road trip in Michigan? Let's go!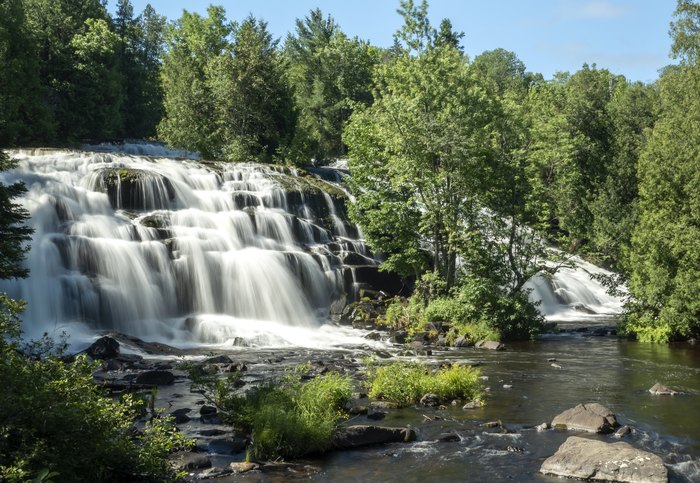 What are your thoughts on this waterfall and wineries road trip in Michigan? Feel free to share your thoughts with us in the comments below — we'd love to hear from you! And don't forget to find the closest Best Western property near you for a convenient and restful place to stay as you travel.
Looking for more amazing wineries in MI? Our state is one of the best wine-growing regions in the country!
More to Explore
Wineries in Michigan
Are there many wineries in Michigan?
There are! As evidenced in the above road trip to the best wineries and waterfalls in Michigan, our state is blessed with an abundance of vineyards and wine regions that are every oenophile's dream come true. The splendor of #PureMichigan extends far beyond its pristine lakes and isles, with the Great Lakes State home to a burgeoning wine country worthy of any oenophile's attention. Within the state, 55% of Michigan's wine grapes are grown in the Traverse City region. The Leelanau and Old Mission Peninsulas are designated as American Viticultural Areas, in fact; together, the 40+ wineries throughout the area make up what's commonly known as the Traverse Wine Coast. Some must-visit vineyards in Michigan include:
Chateau Chantal Winery and Inn. This impossibly picturesque place offers a taste of French-inspired charm right in the Great Lakes State. You'll wonder if you've been swept away to the vineyards of Italy when you arrive at Chateau Chantal Winery, which sits on the Old Mission Peninsula and remains proud of its status as one of Michigan's's oldest wineries. Through the end of October, you can enjoy the fall colors surrounding the winery and set aside some time to taste the unique beverages produced on-site.


Mari Vineyards. This MI winery and vineyard has a stunning, 31,000 square feet facility that's straight out of the Old Country.
Black Star Farms. This locale in Suttons Bay sits among some of the most beautiful scenery imaginable, and you'll be enamored as soon as you arrive. With two wineries, tasting rooms, an on-site restaurant, equestrian facilities, and even an inn, there's truly something here for everything. You'll be especially charmed by Black Star when it's cloaked in the beauty of fall foliage.


Robinette's Apple House and Winery.

Perhaps you've visited Robinette's in the fall to pick up a few apples or sip on a cup of cider, but did you know that this Grand Rapids favorite also features an on-site winery? With over 20 wines and hard ciders available, you're sure to find your new favorite fall beverage when you stop in at this delightful day trip destination in Michigan.

Cherry Creek Cellars. Tucked away in an amazing 1870 schoolhouse, this winery is absolutely one-of-a-kind. Using old world wine-crafting methods, Cherry Creek produces some of the most delicious and satisfying tastes imaginable, and you'll want to take home a bottle of each variety. The surrounding land is stunning, and this is one autumn excursion you'll certainly never forget.
Related Articles